Walking into Dean Bright's house is like walking into an Oregon Trail trapping museum.
"I've always been fascinated with nature and animals," he says, pointing to a skeleton of bighorn sheep his wife tagged near the Snake River in 2011. He also has a stuffed mountain lion and about 100 animal traps in the room.
On more than 300 acres in Myrtle Creek, Bright is a feeder cattle rancher with an affinity for taxidermy.
"When I bought the property in '92, I had just gotten out of the Air Force and I wanted to open a taxidermy shop," he said with his rat terrier-fox terrier mix named Maddie at his ankles. "This was a hay barn. There were no walls, no floor, just a tin roof on these poles, and I thought, well, that's the perfect building to enclose and make a taxidermy shop."
He built a couple of bedrooms onto the back instead of continuing to live in a trailer, and he said, "Well, we'll kind of live there until I build a house. But I liked it right here, so I just turned this into the house."
It's clean and tidy, and the conversation quickly turns to Bright's snakes. Maddie is short for Medusa — the venomous snake-haired creature of Greek mythology. In his custom-made locking terrariums, Bright has 12 rattlesnakes from all over the country. He also has a boa constrictor named George (of the jungle) he bought so his grandkids could actually handle one of his snakes.
Bright is part of the 75% of landowners along the path of the Pacific Connector Pipeline who have signed agreements allowing the pipeline to be built on their properties. The highly contested Jordan Cove Energy Project would snake 229 miles through Southern Oregon to an export terminal in Coos Bay, where natural gas originating in Canada would be shipped to East Asian markets.
On Friday, the public comment period for the project's draft environmental impact statement concluded. In the statement, the Federal Energy Regulatory Commission included more than 130 conditions the company needed to address to minimize environmental impacts.
Jordan Cove has multiple outstanding state and local permits, but federal regulators would have the final say on the project. The number of agreements signed with landowners will play a significant role in FERC's decision, according to Jordan Cove spokesman Paul Vogel.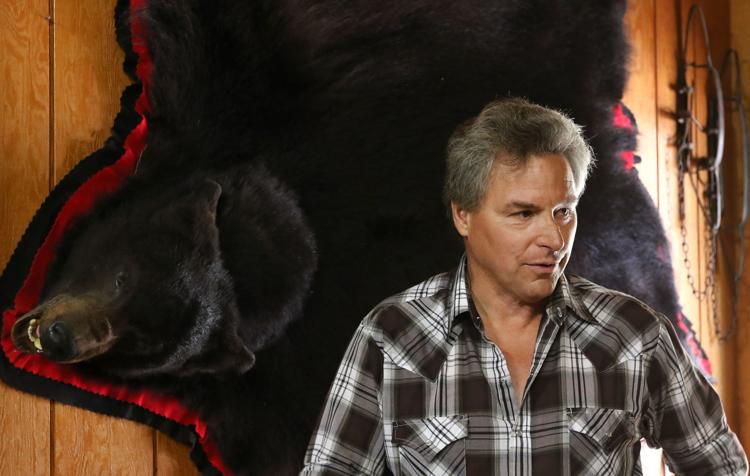 Bright's decision to sign an agreement is mostly financial, he said. He would not disclose how much money he has received, but he said it has helped with a lot of projects on his property such as extensive invasive species removal.
"It's pretty nice to be able to take my wife on a cruise once in a while," he said.
The agreement includes a 50-foot-wide right-of-way for the 36-inch diameter pipeline. It would be about 1000 feet from his house. Coming from his neighbor's property on one side, the pipeline would come over a hill, cut across his horse pens — where he has nine horses — cross a creek and go over a hill onto another neighbor's property on the other side.
"They've been very cooperative as far as asking what I need," Bright said of Jordan Cove employees, with whom he has had regular communication since the project's parent company, Calgary-based Pembina Pipeline Corp., took over the project from its previous owner in 2017. Public hearings for the project were first held in 2005. In 2016, FERC denied the project saying there was little need for it, but Jordan Cove resubmitted its application a year later.
Jordan Cove plans to build temporary horse pens in a different part of Bright's property during construction through the existing pens. The company would then rebuild them in the original spot after construction is completed — an expense the company will cover in addition to Bright's primary compensation, he said.
"When the pipeline's done, there won't be any difference whatsoever," Bright said. "It'll be completely buried."
He said opponents' environmental objections are unfounded. Opponents say the pipeline will bring hundreds of square miles of forest clearcutting through threatened and endangered species habitat, sedimentation in more than 300 rivers and streams and extensive dredging in the Coos Bay channel.
"Nature is very resilient," Bright said. "No matter what you do to it, it's going to come back. It's all about timelines."
Bright said he spent years turning over logs trying to see his first Pacific giant salamander in Oregon. He admits the pipeline will destroy entire populations of creatures such as salamanders that reside in small locations on the pipeline's path, but he doesn't think there will be long-lasting damage.
"Over time, it's going to completely regenerate," he said.
FERC's draft impact statement said the project would cause "temporary, long-term and permanent impacts on the environment," but concluded that recommended mitigation efforts would reduce impacts to less than substantial levels. Opponents refute that mitigation can adequately reduce damage.
Bright also denies the consensus of the global scientific community that says changing climates are a result of fossil fuel emissions.
"That falls in the category of fake news," Bright said.
The key role atmospheric carbon dioxide plays in insulating heat on the surface of the earth has been upheld for more than 100 years. Swedish scientist Svante Arrhenius published a paper studying carbon dioxide's greenhouse effect in 1896. Atmospheric carbon dioxide levels reached 415 parts per million in May — for years, they've been at their highest levels in the last 800,000 years.
The federal draft environmental impact statement shows the Jordan Cove project would be the largest greenhouse gas emitter in the state. Jordan Cove officials acknowledge that humans are changing the earth's climate, but they argue natural gas is a more environmentally-friendly fuel source than coal, which they say East Asian countries will use more of without the gas.
Bright said the project's benefits to the local economy will outweigh the costs. Douglas County would receive $4.6 million in annual tax revenue, according to an economic analysis by consulting firm ECONorthwest.
The project would produce $9.8 billion in overall construction spending, the report said. Of that, $2.88 billion would be spent at Oregon businesses and $1.5 billion would go to Oregon workers.
Additionally, there would be 6,000 temporary construction jobs and 215 permanent jobs primarily at the Coos Bay facility.
Bright is in the minority of landowners who signed agreements with the project's previous owner, Veresen Inc, in 2012. About 20% of landowners signed agreements with Veresen, according to Vogel.
"Because I made an agreement early, that compensation was not near what the people now are being compensated," Bright said. "I've requested more. I'm not asking for anything special, I just want the same as my neighbors got."
He said while a new agreement hasn't been finalized, Jordan Cove has committed to giving him more.
Bright has neighbors nearby who refuse to sign agreements. If the project is approved, many landowners have committed to going to court over the use of eminent domain.
"I haven't really thought about how my action is affecting them personally," Bright said. "I'm definitely a personal freedom type of person. The second amendment, free speech, those are my rights, do not take them away from me. And your property is the same way.
"I'm not opposed to the pipeline going around them somehow. If they don't want it on their property, then it shouldn't go on their property."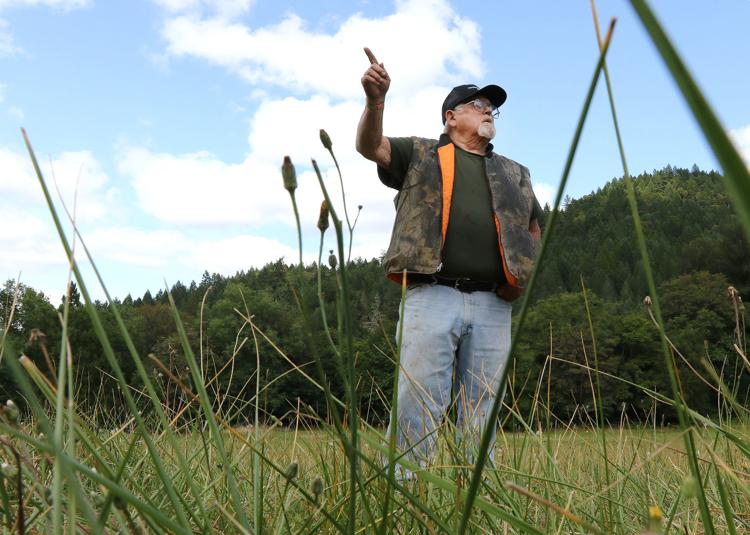 Ron Clack, another Myrtle Creek landowner on the pipeline's path, agrees that people who don't want the pipeline on their land shouldn't be forced to.
Clack refused to sign a deal for years. He said when employees of the project's previous owners came to his property, they had no interest in addressing his concerns. He added they talked about using eminent domain if he didn't sign an agreement.
"They wanted to take something for nothing," Clack said.
But Clack, who has lived on the same 200-acre property since 1939, recently signed an agreement with Jordan Cove. That change was largely due to Jordan Cove's willingness to cross North Myrtle Creek by boring underneath it instead of going over it — something Veresen was unwilling to do.
Clack lives about 500 feet from the creek, and he said during heavy storms, he's seen the creek uproot 90-foot trees near the banks and carry them downstream. Building a natural gas pipeline across the stream was untenable to him.
He remembers when the first telephone poles were installed on the road by his house in the 1940s. He also remembers fighting with power companies for years over timber maintenance around the transmission lines that run over the ridge on his property. He said they deceived him on multiple occasions about how much they were going to log.
His decision to sign an agreement with Jordan Cove is partly because employees are open to negotiations, and they don't talk about eminent domain, he said.
While it wasn't his primary motivation, Clack said by signing an agreement, he could help pay for his brother's dialysis treatments and his sister-in-law's retirement facility expenses. His brother died shortly after the agreement was completed.
"We signed before this all happened," Clack said. "But it was well enough that that's one way we could help them."