Roseburg-based business Lone Rock Timber Management Company has operated in Oregon forests for four generations. Now, the family-owned company and partner Cow Creek Band of Umpqua Tribe of Indians hope to acquire the Elliott State Forest to keep the land in local ownership and manage the forest for timber harvest while meeting conservation and public access requirements.
The Confederated Tribes of Coos, Lower Umpqua and Siuslaw Indians plans to hold and monitor the conservation easement while The Conservation Fund and other local groups will continue to advise the partners if the sale goes through.
"Lone Rock is an innovative local landowner that has long established roots in the community," said Tim Vredenburg, the director of Forest Management for the Cow Creek Tribe. "They haven't been here as long as the tribe, but they do still approach management of their lands through a generational lens so in some regards, I think that makes for an easy partnership."
Jake Gibbs, the director of External Affairs for Lone Rock, said the company takes a long-term approach to managing forest lands and it grows more than it harvests each year, meeting or exceeding Oregon's Forest Practices Act and other state and federal safety and environmental guidelines. It also replants more than 1 million new seedlings in its managed forests annually, as it usually replants within a year of harvest.
"Harvest mechanisms and approaches are determined on a case-by-case basis relying on the expertise of our foresters and the best available science, whether that is clear-cutting, selective thinning or ladder fuel reductions to prevent wildfires," Gibbs said. "The way we harvest has also changed dramatically over recent generations through the use of mechanization that is minimizing soil disturbance and impacts on land and water near areas where we operate."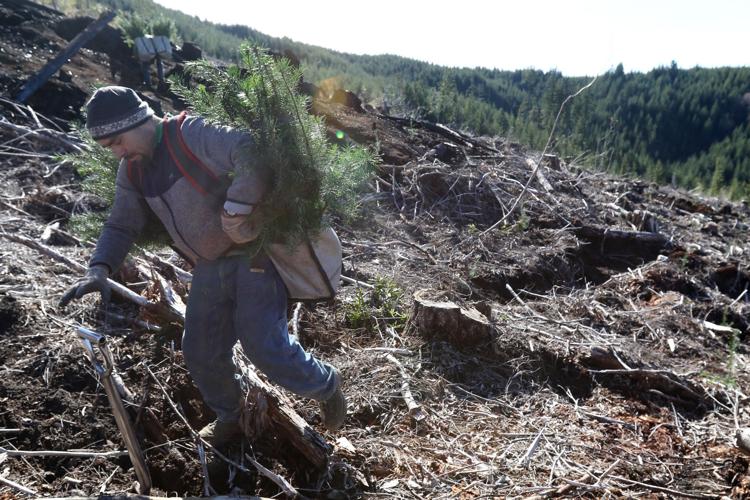 Habitat conservation and public access issues
"Lone Rock has a long-standing tradition of providing public access to our lands," Gibbs said.
The company's recreation access program allows the public to hunt, bike and hike throughout the forests it manages. A permit is required, but the permit is free and there is no limit to the number of permits the company issues.
"Many of our properties have residential neighbors or other circumstances that, in the interest of being a good neighbor, limit some activities," Gibbs said, adding that Lone Rock doesn't allow hunting on properties directly next door to residential homes and it doesn't mix public recreation access and active operations for safety reasons.
The Cow Creek Band of Umpqua Tribe of Indians teamed up with Lone Rock Timber Management Company to create the sole proposal to buy 82,500 acr…
"During fire season we may also restrict access to our lands out of concerns of accidental fire starts," Gibbs said.
Evan Smith of The Conservation Fund said he's been impressed by the way Lone Rock has approached the purchase of the Elliott.
"In general, they are a for-profit entity, but I think they have the necessary expertise to manage this land in a thoughtful and careful way," Smith said. "They tend to be somewhat conventional in terms of land management, but they are committed to public access and restoration activities."
Smith said when it comes to protecting environmental and community assets, Lone Rock goes above and beyond the minimum requirements established by the state.
"A lot of the environmental community will criticize Lone Rock as just another timber company that is really interested in a relatively short rotation and clear cut management," Smith said, adding that Lone Rock does use those methods as the best way to reach a return on investment. "But they do that in a thoughtful and careful way as opposed to folks who are less sincere or careful."
The forests Lone Rock manages have also been certified by the Sustainable Forestry Initiative, an independent third-party organization that monitors sustainable forestry practices.
Lone Rock conducts its planning and operations according to its Wildlife and Biodiversity Management Plan.
A certified wildlife biologist reviews the company's planned operations for potential impacts to species and habitats, like older forests and oak savannas. Gibbs said if there are things Lone Rock can do to improve ecosystems for native wildlife, it makes it easier knowing ahead of time.
Lone Rock's history begins in 1950 when Fred and Frances Sohn founded the Sun Studs Mill near the South Umpqua River in Roseburg, the current location of the Swanson Mill. The Sohns began purchasing small properties of unproductive lands in the 1960s, and Fred Sohn hired his first forester in the early 1970s to transform these cut-over lands into productive forests.
"From tree growing to lumber milling, (Sohn) championed optimization and instilled a culture in the employees to treat the lands as if they were their own, knowing such ownership would ensure the best management on the forest lands," Gibbs said. "Fascinated with technology, Fred hired the best talent and used innovation to differentiate his company in the competitive world of post-World War II lumber manufacturing."
Sohn's technological innovations were unprecedented in the industry, according to Gibbs. He assembled an electronics research team, created the first fully-computerized sawmill and patented 3-D scanning technology that every production mill still uses today to retrieve the optimal amount of boards from logs.
Editor's Note: This is the third in a four-part series about the partners proposing to purch…
With the changes in the timber industry in the late 1980s and 1990s, Sohn focused on purchasing more forestland to supply the mill with logs to meet the demand for lumber, and the company grew from about 40,000 acres to 100,000 acres in less than 10 years, in Douglas, Coos and Jackson counties.
Sohn's sons Rick and Howard transitioned into leadership roles as Fred Sohn retired. Lone Rock sold its mills to the Swanson Group in 2001, but the Sohn family maintained ownership of the timberlands.
After the Sohns retired, Toby Luther took over as president and CEO, and the company now owns about 129,000 acres throughout the three counties.
Gibbs said Lone Rock's values reflect those of the Sohn family, and decisions are made with a long-term perspective, taking into consideration financial, environmental and social consequences.
Gibbs said Lone Rock is committed to its employees and the local communities in which it works.
"We support our employees through competitive family wage jobs and benefit packages and retirement plans while also recognizing the importance of family and the commitment that raising a family requires," Gibbs said. "Employees and their families are what make our company unique and the number of employees here for over 20 years is testament to our philosophy."
"Managing forests in a responsible and sustainable way, as we always endeavor to do, is no small task and takes constant collaboration and proactive approaches," Gibbs said.
In the early 1990s, the coho salmon was listed under the Endangered Species Act, focusing attention on forest management practices in riparian areas. In response, Lone Rock, local residents, organizations and governmental agencies worked together to create one of the first watershed councils in Oregon, in which they developed rules, regulations and restoration practices to benefit salmon while allowing land owners to continue to use their properties.
Lone Rock continues to work with local watershed councils today.
"Our commitment to our lands, our employees and our local communities motivates us to step up and participate directly on issues like this," Gibbs said.
Gibbs said Lone Rock has worked in and around the Elliott State Forest for 50 years and if the partners are able to purchase the land, they plan to conserve older forests, stream buffers and provide recreational opportunities forever on major parts of the forest.
"Together with our tribal partners and conservationists, we are committed to sustainability and managing the forest for its environmental, recreational and economic benefits," Gibbs said, adding that they plan to own the forest indefinitely. "That means managing this forest sustainably and supplying needed logs to support jobs in local mills."
Gibbs said Lone Rock also looks forward to working with the partners to seek options for creating additional conservation values.