Though sawmills continue to turn logs into wood products, the process looks very different today than in the past.
The modern sawmill is largely automated and efficient, incorporating advanced machinery to improve production, ensure quality and create new products.
With changes to the industry that have led to decreased lumber supply, mills have had to innovate or close. Innovations have included huge upgrades in technology; from how they produce to how they sell to the market, technology is there every step of the way.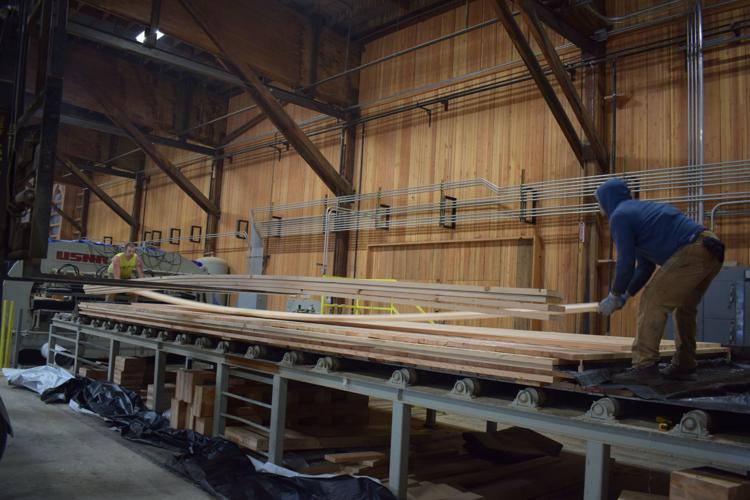 In modern sawmills, lasers, sensors and scanners guide logs on tracks, sort them and show how to optimize their cuts while cameras check for accuracy. Color vision technology and geometric scanning are used to determine grade and the best ways to cut the logs.
"Each log has a specific plan for maximizing that piece," Sara Duncan of Oregon Forest & Industries Council said.
The Swanson Group's stud mill in Roseburg received an upgrade that was completed in March 2016.
"We put in a new high-speed lumber sorting system and completely changed the primary breakdown where you first begin to turn the log into lumber," said President and CEO Steve Swanson.
Technological advances in harvesting timber can not only make operations safer and more effi…
This new system has allowed the mill to increase its production from 30,000 to 50,000 board feet per hour, which allows the Swanson Group to cut operating costs. The same number of employees remain at the mill, as operators are still involved in the now-quicker process.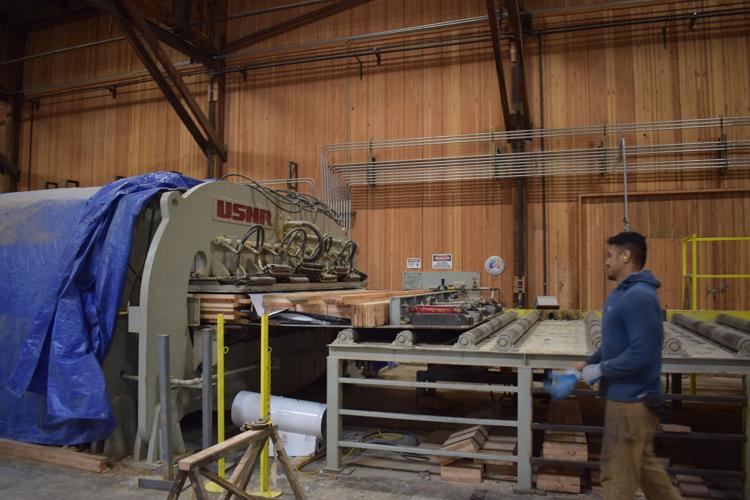 Swanson Group's mill in Glendale in the past five years added kiln drying to its process with a pair of thousand-pound boilers and two double track kilns. Before, everything went out green and unseasoned, but now about half of the mill's lumber leaves dry to meet customers' needs.
The company is also completing a mill in Springfield with a new meinan lathe, a hardwood plywood core peeling system from Japan. It only takes three people to run an entire meinan lathe line, while in Glendale the traditional lathe takes 12 people.
"It will be the most state-of-the-art plywood mill in the U.S.," Swanson said.
The Springfield mill will also have the only green veneer composer system in North America. that system produces a higher yield of dry veneer. Veneer refers to a thin layer of wood that's been peeled or sliced from lumber.
Swanson said the mill will use a large, efficient veneer dryer called a Raute, as well as a Raute Patchman 2 to upgrade veneers with wooden plugs and an Argos Panel Patchline, an automated machine to repair splits or defects in panels.
"The facilities in Springfield make us much more efficient and it also produces a higher quality panel that we sell to the high-end market," Swanson said.
The wood products industry has implemented technological advances into each step of the proc…
Roseburg Forest Products also uses a high degree of automation in all its processes, including its sawmills. The company has several plants to produce different products, from plywood to engineered wood products like laminated veneer lumber and I-beams.
"The technology has really evolved with general technology as a whole," said Jim Salchenberg, RFP's director of engineering services. "We had technology to a point 10 or 15 years ago, but it's been exponentially growing over the last five years and will continue to do so in the near future."
With this change, he said, mills need more employees with backgrounds in science, technology, engineering and math, or STEM. Roseburg Forest Products supports robotics programs at high schools in Douglas County to encourage students in STEM.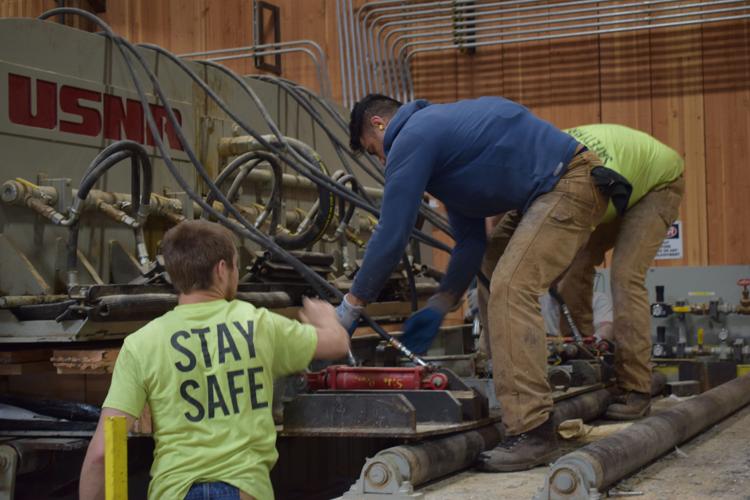 Salchenberg said all Roseburg's mills are largely run by computers with systems heavily reliant upon linear motion robotics.
The automation is meant to ensure efficiency and product quality with automated scanning technology that looks for internal defects the human eye can't detect, and makes sure the product meets quality standards. The mills also incorporate sophisticated information technology systems and data analyzing processes.
Cameras act as eyes for computers to oversee the production while scanners help determine how to process each piece of lumber to get the best quality and value out of the product.
Steve Killgore, senior vice president of wood and marketing for Roseburg, said machines also grade the veneer and measure the density of the wood with sound waves.
"It's very much a new age process in preparing the raw material to be made into a product," Killgore said.
D.R. Johnson's cross laminated timber plant in Riddle uses automation in one of the few mills in the U.S. to produce CLT, a strong engineered wood product that competes with steel to build tall buildings.
"We were the first certified company in the U.S.," said John Redfield, chief operating officer.
A layer of 2-inch-thick dimensional wood is laid across another layer at a 90-degree angle, creating the cross in cross laminated timber. This alternating pattern is repeated until there are three to seven layers. Once glued together, the layers of panels are fed into a pneumatic press that uses hydraulic and air pressure to squeeze the boards from the sides.
"After a couple hours of pressure, it gives the glue a chance to set and it comes out the other side as CLT," Redfield said.
The newly made cross laminated timber then gets cut in a Hundegger, a large woodworking machine the plant has had for about a year.
According to the architect's and buyer's specifications, D.R. Johnson staff creates a 3-D model of the design and sets it up in a 3-D file on a thumb drive that Hundegger software reads and implements in the CLT.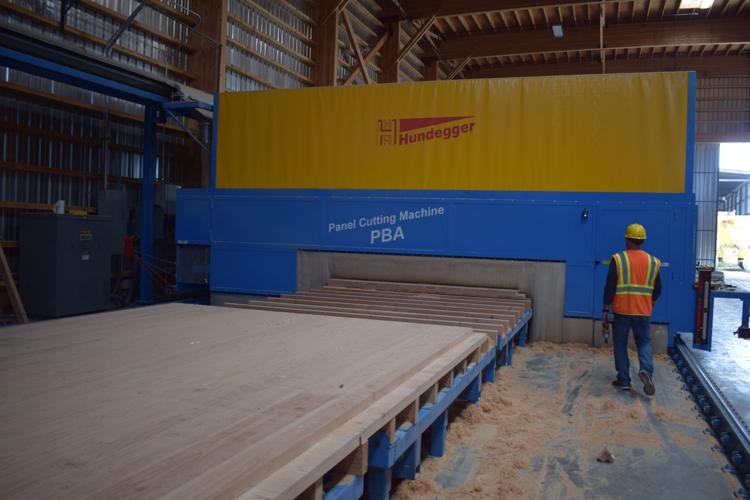 Valerie Johnson, president of D.R. Johnson, said primary manufacturing of turning logs into timber products at sawmills has been updated considerably by computerization, while at the same time milling employment has reduced by more than half in Douglas County.
"The reduction of harvest has made it so primary mills have more lumber for fewer jobs," Johnson said. "Technology will reduce the number of people needed, but as we continue to discover more products that can be made, we'll be adding jobs back."
She added employment in mills won't return to what it once was, but will increase with the market of mass timber and engineered wood.
"During the spotted owl wars, our industry was thought of as a dinosaur and not needed any more, where in fact our industry has always had people who were innovative and found new ways to use products," Johnson said. "I would put our industry's innovations against any other."