A new study from Oregon State University claims the 2013 Douglas Complex Fire burned with a higher fire severity in private industrial forests than in nearby public forests, partially due to management practices.
According to the study, the most important factor to fire severity was weather, followed by ownership and age of the forest, and then topographical features. Christopher Dunn, a researcher in OSU's department of forest engineering, resources and management, and Harold Zald of the department of forestry and wildland resources at Humboldt State University, published the study on April 26 in the scientific journal Ecological Applications. Partial funding for the research came from the Bureau of Land Management.
The lightning-caused Douglas Complex Fire began July 2013, three miles north of Glendale, and torched nearly 49,000 acres of private timberland owned by Roseburg Forest Products and Plum Creek Timber Co., as well as public land managed by the BLM. Crews with the Douglas Forest Protective Association and Oregon Department of Forestry Southwest Oregon District responded and contained the fire by early September.
Zald and Dunn found intensive forest management on private land with evenly spaced young trees was a significant driver of the fire's severity.
"This has implications for perceptions of wildfire risk, shared fire management responsibilities and developing fire resilience for multiple objectives in multi-owner landscapes," they wrote.
The study suggests private timberlands tend to have younger trees because they are harvested sooner than trees on public lands, and younger trees tend to burn more easily, causing a higher fire severity.
Roseburg BLM spokesman Cheyne Rossbach said the BLM rotates tree harvesting on its land every 100 years. As the agency cycles through its harvest land, it will begin harvesting trees closer to 50 years old. The BLM also sets aside land specifically for wildlife habitat and other purposes, where trees generally can grow older.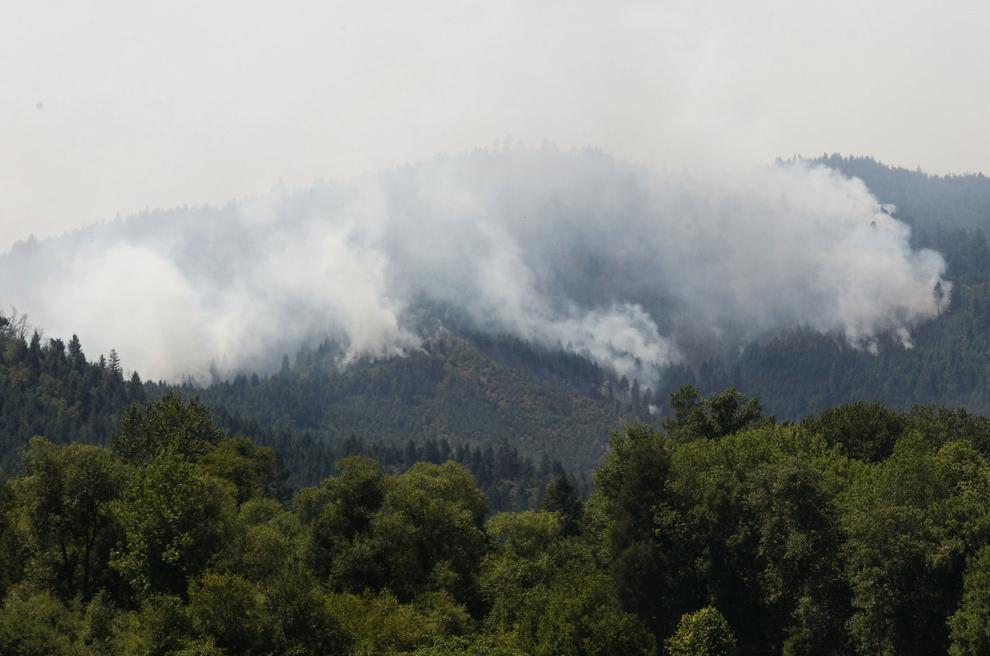 Kyle Reed, a spokesman for the DFPA, said there's no difference between how crews fight a fire on public versus private lands.
"We have the same suppression tactics and goals to keep the fires as small as possible and reduce acres burned and money spent on suppression," Reed said. He said no matter who owns the land, fuels, weather and topography dictate a fire's spread.
Reed also said it's important to keep in mind the distinction between fire severity, which the study discussed, and fire intensity.
"Fire severity is the physical change in a particular area comparing the pre-fire and post-fire," Reed said. "Fire intensity is the array and amount of heat produced at the head of the fire."
He said it's not intuitive to lump all private timberland owners together or all public land managers in another group, because management practices vary between each individual company or manager.
Reed said in general, younger trees are not as resistant to fire because of their smaller size and inability to hold moisture for as long as older trees.
Rossbach said there are many components that go into fire severity, including the forest's climate.
"High-intensity forest management doesn't mean you have less risk of fire, but it doesn't increase fire resistance either," Rossbach said.
Eric Geyer, Roseburg Forest Products director of strategic business development and external affairs, said younger trees burn more quickly, but don't generate as much heat and energy as larger trees. He said it's easier for firefighters to access and put out a fire on younger private lands than in older public lands.
"We can stop fires much better in those areas where there are younger trees than in old growth stands where the energy builds up and creates a much bigger release of energy," Geyer said. He said he saw this higher fire intensity on the BLM lands during the Douglas Complex Fire.
"On the BLM lands, it would generate so much energy that it would blast through the private lands, and we'd try to stop it there. But if we couldn't, it would hit the BLM lands again and build the energy up and blast again through the private lands," Geyer said.
The study, however, claims that private lands create a higher risk of fire.
"Higher fire severity in plantations potentially flips the perceived risk and hazard in multi-owner landscapes, because higher severity fire on intensively managed private lands implies they are the greater source of risk than older forests on federal lands," the study states.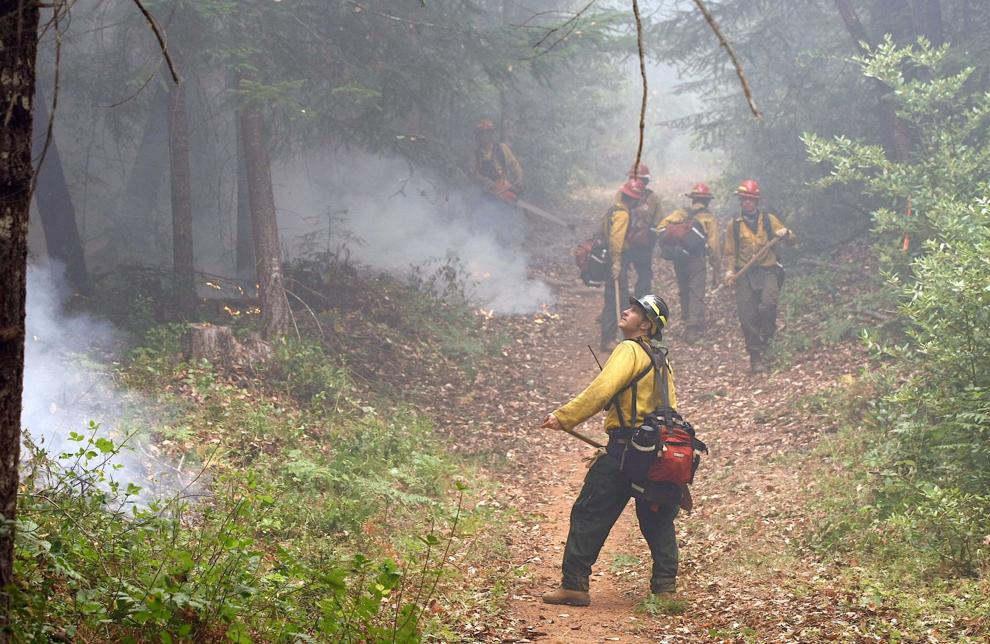 Joseph Patrick Quinn, vice president of Umpqua Watersheds, a conservation group, said he agreed with the study.
Quinn toured the Douglas Complex with the BLM after the fire and got a first-hand look into how it had burned.
"It burned in mostly a marble pattern on the BLM land but I could see where it hit on Roseburg Forest Product's plantations and all that was left were matchsticks," Quinn said. "It was pretty clear that those tightly-packed, even-aged young plantations were at tremendous threat, in many respects, to the adjacent public lands."
Reed said the damage isn't always apparent right away, and that wildfires that stay on the ground and are slower moving can bake the roots of a tree, causing it to die over time.
The study also found that fire weather was a bigger predictor of fire severity than ownership or management practices.
Geyer said he agrees, as crews are restricted in fighting fires during extreme fire weather, like low relative humidity and strong winds. He said in private industrial forests, crews are able to get in and attack the fire when the conditions improve, but on public lands, with large fallen snags and undergrowth, it's harder to get crews into the fire area, even with good conditions.
"If these were happening all on private lands, we would be able to corral them when conditions change," Geyer said.
Rossbach worked as a public information officer during the Douglas Complex Fire and said he also remembered extreme fire conditions that caused intense fire severity.
He said the older trees with thicker bark and more moisture had a better chance of survival, whereas the younger trees that might not have that protection experienced a higher mortality.
The study used satellite-based estimates of fire severity and geospatial data while taking into account land ownership, fire progression, weather, topography and pre-fire forest conditions.
The study concluded that increasing the age, and therefore the size, of stands and arranging trees in a diverse way across a landscape can likely reduce fire severity.
Rossbach said the BLM looks at any new studies like this and factors them into its forest management.
"The BLM will be looking at that as far as more research for our understanding and our management," he said.