Four teams watch their robots lower to the ground and work to accomplish tasks on their own.
After 30 seconds, one or two people from each team grab controllers from gaming systems and guide the robots to collect wiffle balls and yellow cubes. After 1 1/2 minutes, the drivers work to reattach the robots to the module and raise all of their wheels off the ground.
The hundreds of people watching at the Roseburg High School gym treated the FIRST Tech Challenge like any other sports tournament. They study other teams, fine-tune their robots and watch the point board change with each round.
"It's teamwork, innovation, current technology and helping to prepare these kids for the workforce," said Cynde Pakros, coach for the Cybernetic Elks from Elkton.
Students' faces are tense and concentrated while focusing on the competition. But they are smiling and at ease when they are in the "pit" working on their robots, relaxing or helping other teams.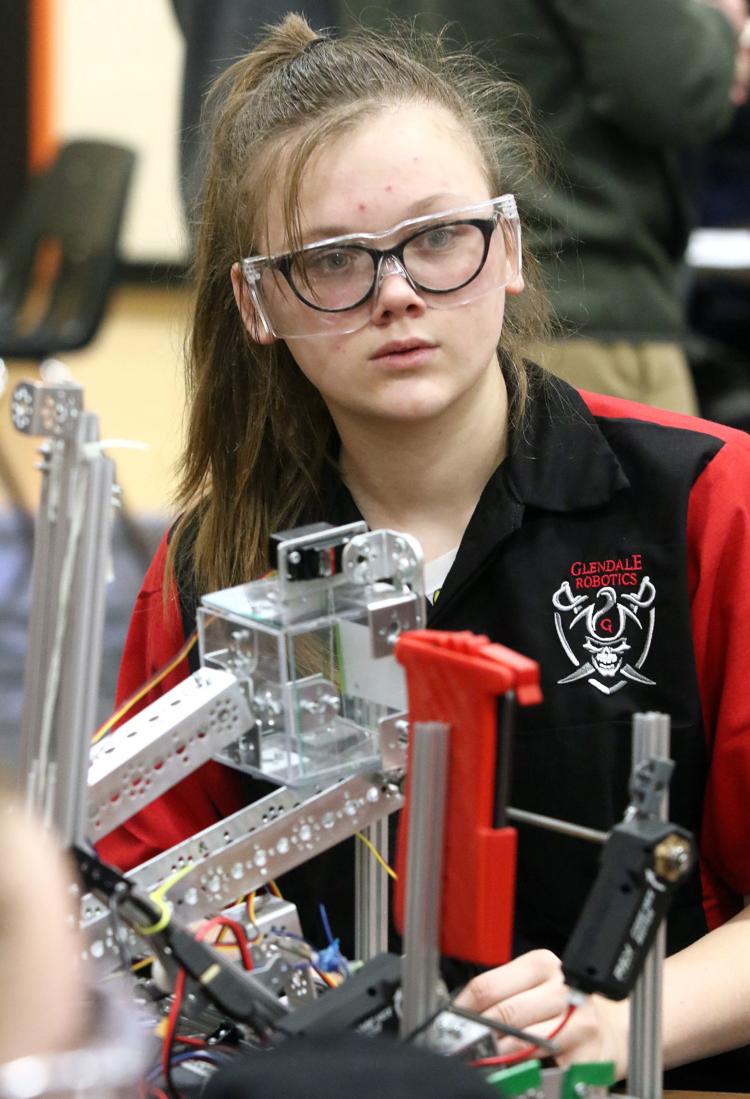 "That's something most sports don't teach you," Pakros said. "They have to be able to work well with other teams to succeed."
Homeschool senior Claire Brinkman flutters between directors, referees, volunteers, other teams and her own team, NextGen, all day.
"It is very much a family environment," Brinkman said. "Around here, this is our fourth tournament with these guys."
Brinkman's team is one of two hybrid teams among the 29 teams in two leagues. The other 27 are school specific, with several schools hosting multiple teams.
"The system didn't work really well to do it in a class," Brinkman said. "It is it's own mental state."
The tournament is the first qualifier leading up to the FIRST Championship in April, where teams from all over the world will compete. Teams in the Southern Oregon Area Robotics League have a poster team to look up to, the Mechanical Maniacs from Sutherlin, which won the championship last year.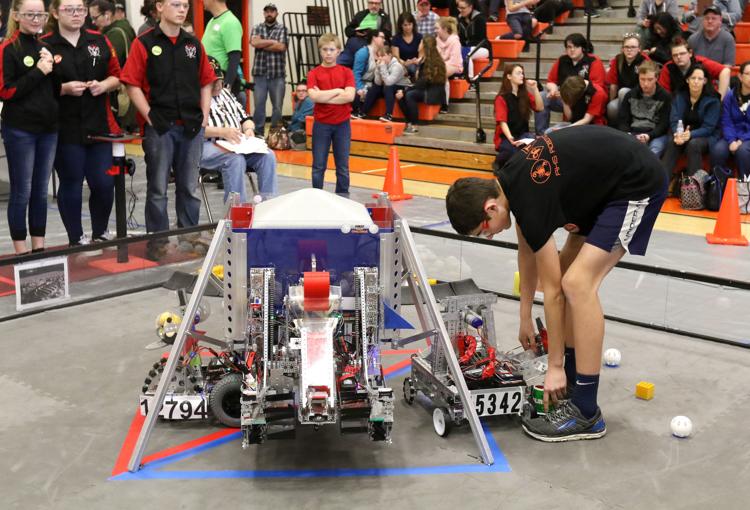 Brinkman has been in robotics for five years, the first three with the Mechanical Maniacs and the last two in NextGen.
"Robotics is really amazing because it really forces us to work as a team," Brinkman said. "These are life skills we are learning. We get the amazing opportunity to learn it in a fun environment. It's a fun way to learn math and science."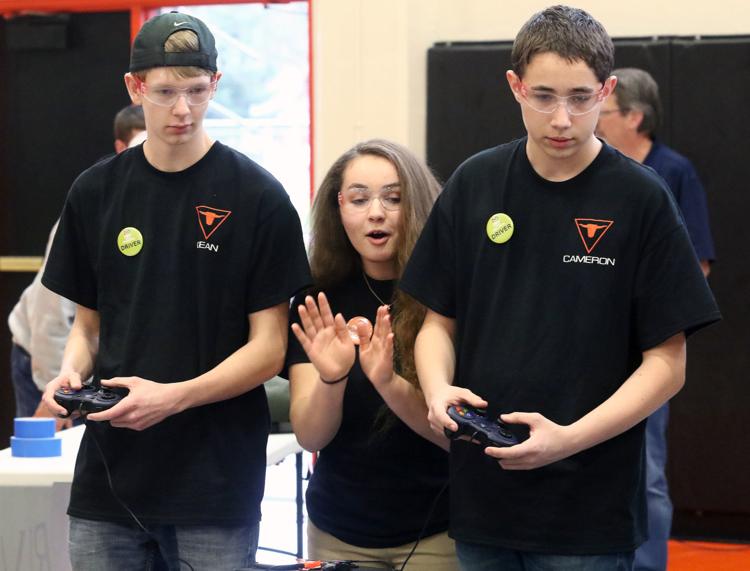 Co-Director Linda Koontz said teams have come from as far as Medford and Klamath Falls in past tournaments. The tournament is made up of two leagues and 29 teams, all of whom put in close to a 10-hour day. About half will move on to the super qualifier on Feb. 9.
The leagues do fundraisers and recruit sponsors to make sure the financial requirements do not prohibit students from participating.
"We just want everybody to be involved who wants to be involved," Koontz said. "It's a team that kids can be on."
Robotics Teacher at Jo Lane Middle School, Steve Kiepert started as a parent in the Lego robotics competitions and gradually got more involved.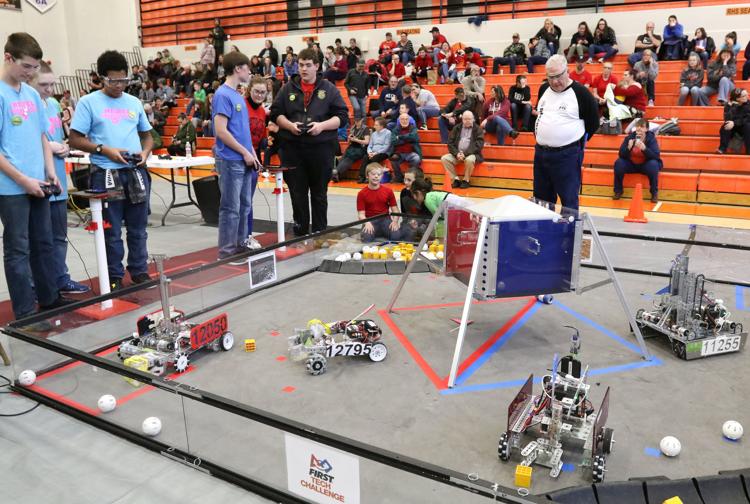 "In the last four years, we really built a program," Kiepert said. "We have no funding from the school. This is an intellectual pursuit. They learn the same teamwork (as other sports) and it's a sport for the mind."
It costs about $1,500 in registration fees and to buy the starter kit for Kiepert's teams to get on the floor. That included a fee reduction for being from a low-income school.
St. Mary's senior Sam Schaefer is on the Trial-N-Terror team which went to the world championship in Houston last year. He is now mentoring other teams, including one from St. Kitts, an island in the Caribbean.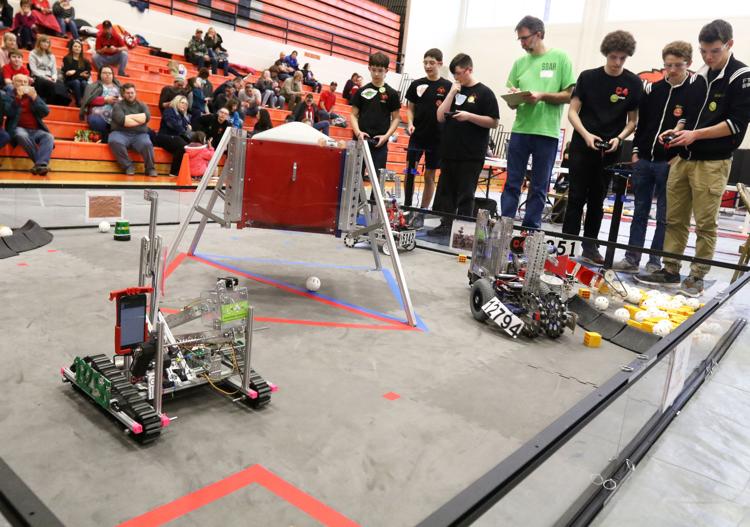 "There are still issues with certain words," Schaefer said. "It's fun to see how they solve issues. We want every team competing at their best. Then when you win, you really win."
Each round has four teams competing, but it's split into two alliances working together and can be in opposition in a later round.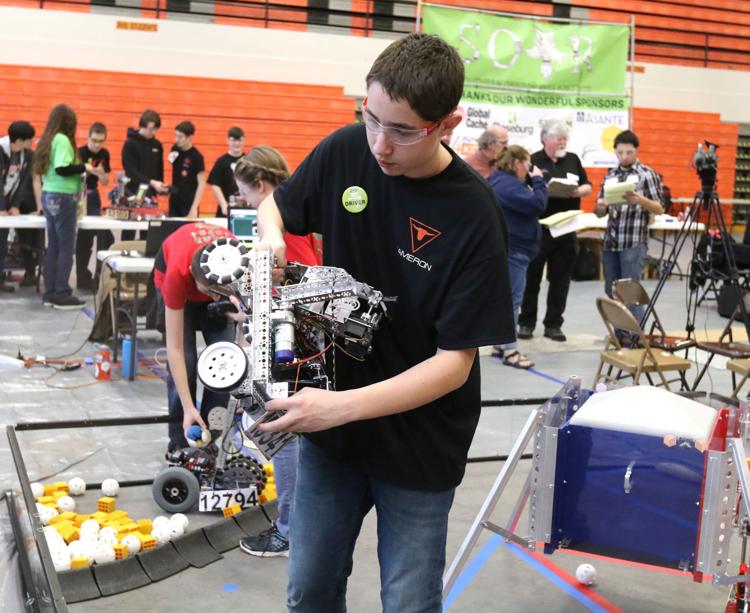 "It forces them them work together," Koontz said. "It makes them stronger and stronger. As you go up, this competition is going on around the world. That to me is amazing. There's a connection and an impact on the whole world."