Douglas County Sheriff John Hanlin says he won't enforce Gov. Kate Brown's mask mandate, which goes into effect on Friday, saying it is "potentially more reckless than doing nothing to stop the spread of COVID."
The sheriff posted a statement on his Facebook page late Wednesday afternoon in an attempt to address an influx of questions from residents and the media.
"The Douglas County Sheriff's Office will NOT be enforcing Governor Brown's mandates period," Hanlin wrote. "The citizens of Douglas County can choose to wear a mask or choose not to wear a mask. We can choose to get vaccinated or choose not to get vaccinated. And we can choose to stay home or we can choose to travel about freely.
"There are choices we as informed individuals shall make ourselves, NOT have made for us by the government," he continued.
Hanlin said it is his responsibility to provide for the peace and safety of those in Douglas County and that he believes retaining local control over decisions affecting public health and safety is paramount.
"Personally, I am tired of Governor Brown's style of leadership that ignores the abilities of our local leadership, and her support of ideals that contradict the values most of us in rural Oregon hold dearly," Hanlin said.
"Governor Brown has once again initiated what many consider to be an unconstitutional mandate by requiring our children and citizens to wear masks and by requiring COVID-19 vaccinations for state employers, healthcare workers and teaching staff," he said. "This mandate is potentially more reckless than doing nothing to stop the spread of COVID."
Hanlin said "overreaching requirements and coercive government mandates" weren't ways to improve public health and instead recommended "honest, accurate communication and compassion while respecting the different beliefs of a diverse community."
The statement was released hours after the Douglas County COVID-19 Response Team announced that the Douglas County Medical Examiner and other local medical facilities requested a temporary increase in morgue space. The request, the county said, was made because of the recent surge in COVID cases, subsequent hospitalizations, and a "huge increase in local COVID-related deaths."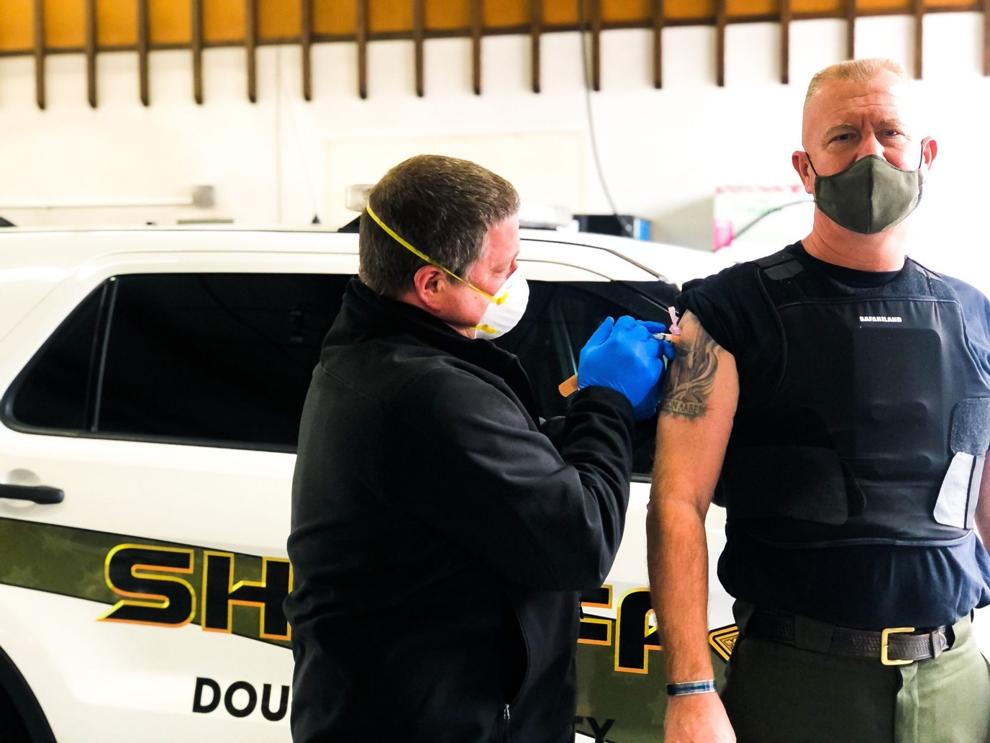 On Thursday, Hanlin responded to critics accusing him of being against vaccines.
"Let me be clear, I chose to be fully vaccinated," he said before referencing a photo of him getting the vaccine that was posted to the sheriff's Facebook page in Janruary. "I also choose to wear a mask in most places. The point is, I made the decision to do this. I fundamentally believe it is wrong to mandate people to get the vaccine or remove them from their chosen discipline."
"This isn't about if someone should or shouldn't wear a mask. This isn't about whether someone should or shouldn't get the vaccine," he said. "My message is about free choice over healthcare decision. The right to choose if we want the vaccine or not. The right to refuse when the Government is overstepping and telling some they must or else. That is not the Government's place. The Governor is choosing to mandate vaccines for employees of certain fields. She is choosing for them; not the individual."
Hanlin isn't the first sheriff in Oregon to oppose the state's mandate. Marion County Sheriff Joe Kast said his office would focus on education instead of issuing citations or making arrests. Malheur County Sheriff Brian Wolfe went further calling the "alleged science" used by state and federal agencies political, which his constituents have "seen through from the beginning."
Read Hanlin's full statement below: