Gov. Kate Brown announced Tuesday that Douglas County will be allowed to ease some restrictions for businesses and other facilities beginning New Year's Day.
The county is one of five that has been dropped from extreme risk to high risk, the second highest of four possible levels.
"We want to thank our residents and businesses for following the recommended guidelines and for making good decisions in order for our communities to start opening back up," the Douglas County COVID-19 Response Team said in a press release Tuesday.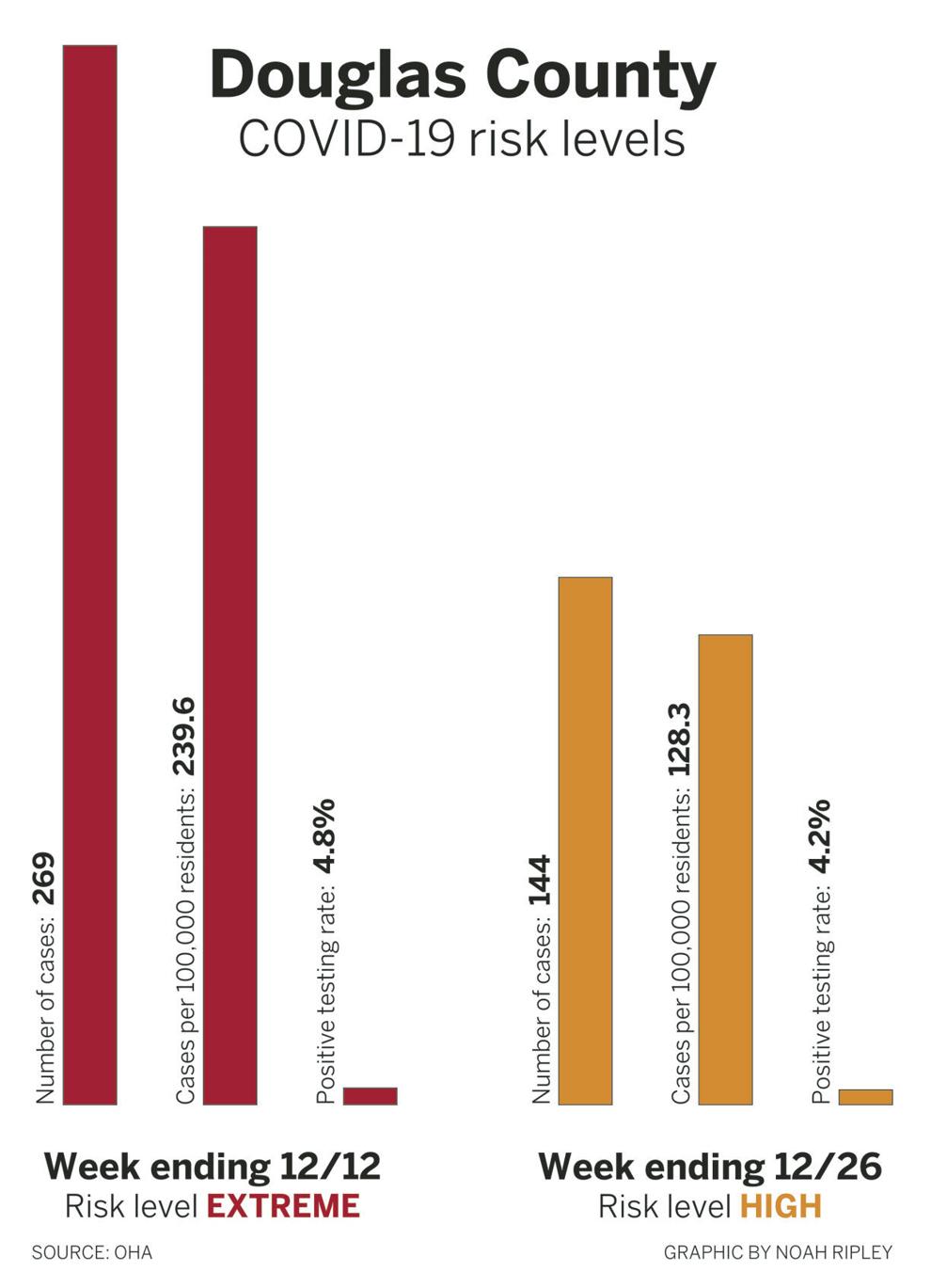 Here are some of the changes that can take place beginning Jan. 1:
• Restaurants and bars will be allowed to open for limited indoor dining.
• Gyms and indoor recreation facilities can reopen.
• Indoor sports can resume.
• Theaters and museums can reopen.
• Indoor and outdoor businesses, services and activities will be able to include more people at a time.
The news about the county's lowered risk level came shortly before the Douglas County COVID-19 Response Team announced 10 new cases and one new death Tuesday.
A 61-year-old man who was diagnosed with COVID-19 Nov. 30 and died Dec. 12. The death was Douglas County's 38th since the pandemic's beginning.
The Oregon Health Authority reported 713 new cases and 16 new deaths statewide Tuesday.
Brown said county data shows Oregonians are making progress slowing the disease's spread.
"If we work together, we will see more counties begin to lower their COVID-19 risk levels," she said in a press release. "If communities let down their guard too early, we could see our hard-won progress unravel just as quickly."
The new risk level will be in place through Jan. 14, and county risk levels will be revisited every two weeks.
Clatsop, Coos, Lincoln and Morrow counties will also drop into the high-risk category Jan. 1.
Seven counties in Eastern Oregon will be at an even lower risk level, while 24 of Oregon's 36 counties will remain in the extreme risk category at the beginning of the year.
Douglas County's overall cases dropped between early and late December. During the two-week period ending Dec. 12, when the county was assessed at extreme risk, it had 269 cases and 239.6 cases per 100,000 people. During the two-week period ending Dec. 26, it had just 144 cases and 128.3 cases per 100,000 people.
The positivity rate for tests — another factor considered in determining county risk levels — also declined. It had been 4.8% for the two weeks ending Dec. 12, and dropped to 4.3% for the two weeks ending Dec. 26.
In other news, the Douglas Public Health Network reports it is supporting 104 people with COVID-19 who are in isolation and another 329 people who have been in contact with an infected person and are in quarantine.
Ten county residents are hospitalized with the illness, nine locally and one out of the area.
The Oregon Health Authority said 4,356 vaccine doses were administered statewide Tuesday, bringing the total number of first doses statewide to 25,972. All the vaccinations so far have been at hospitals and long-term care facilities.
The state reported Douglas County has vaccinated 214 people so far.