Douglas County reported 20 new COVID-19 cases Thursday, bringing the number of total cases to 107.
The Douglas County COVID-19 Response Team said the increase has been linked to an outbreak at the Norris Farms, which has to date reported 22 cases with positive tests. That figure may also include household members and other close contacts of those workers.
It's by far the largest number of cases reported in a single day since the first case was reported in the county March 8.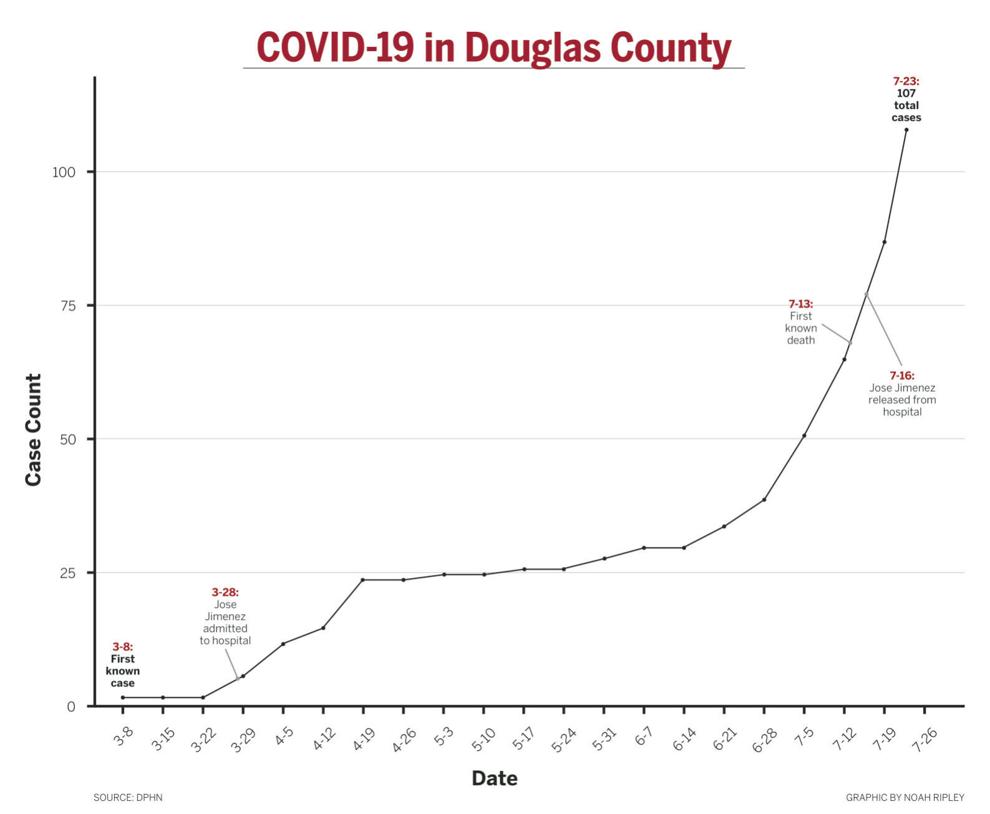 "Today serves as a wake-up call for everyone in Douglas County," said Douglas County Commissioner Tim Freeman in response to the sharp rise in cases. "This virus is still very active, and it's in Douglas County."
Douglas County Public Health Officer Bob Dannenhoffer said he's certain that the risk of the outbreak to the public is low.
"This is an unfortunate situation and we will continue to work closely with Norris Farms," he said in a press release.
Dannenhoffer also said the increase in positive tests at Norris Farms is not totally unexpected because many workers come from other states, some of which are hot spots for COVID-19 cases.
Paul Norris, owner of Norris Farms in Umpqua, said he's been doing preemptive testing throughout the season.
"To date, we've probably run 400 tests on people," Norris said.
Most of his workers have been in the county for several months and have been regulars every summer, some for the past 14 years.
Having so many in isolation has taken a big chunk of his workforce, but he continues to pay them.
"We have 32 pickers isolated, sitting in a motel room for two weeks, we're paying them to stay put," he said. "These people deserve our support. They are hardworking people so we're not going to abandon them."
Test results on several of those who are isolated have not yet been returned, but Norris is hopeful they will come back negative.
Norris has been able to keep the blueberry operation going through all the COVID-19 restrictions and the packing barn has remained clear of any positive cases.
"We're screening everyone in the packing facility and the one case we had about five weeks ago, took 13 people out as contacts, and they've all been cleared and they're OK."
Norris is hoping he will get some good news soon on those that are in isolation. Those workers that had to be isolated, he said, have been very compliant.
"We are doing more testing, we monitor their temperature every day, do a health questionnaire every day, hand washing, masks, shields, we have three people working full-time sanitizing the facility right behind everyone, we're doing the things we're supposed to do, we're trying to do everything we can," Norris said.
Norris said they are getting close to the end of the season which will likely be cut a little short because of the coronavirus.