WINSTON — The historic Harry Winston House is celebrating its 130th birthday with free house tours and cake from 1 to 3 p.m. on Sunday, April 30, at 350 Winston Section Road, Winston.
"I'm inviting the public to let them know that the Winstons are still living here," said Cheryl Weese, a descendant of the Winstons. "I was really a Browne, but mom was the Winston in my family."
Weese and her husband, Jim, will hold guided tours of the house on Sunday to show the rich family history that remains. The couple continued living in the house after her mother, Beverly Edith Winston Browne (1918- 2011) passed away. The house has remained in the Winston family since it was built in 1887. The last time the house was open to tours was in 2005.
Among the historic artifacts are several log books dating back to 1879. The Winstons recorded every financial transaction ever made in regards to building and repairing the house, and making purchases, such as chickens.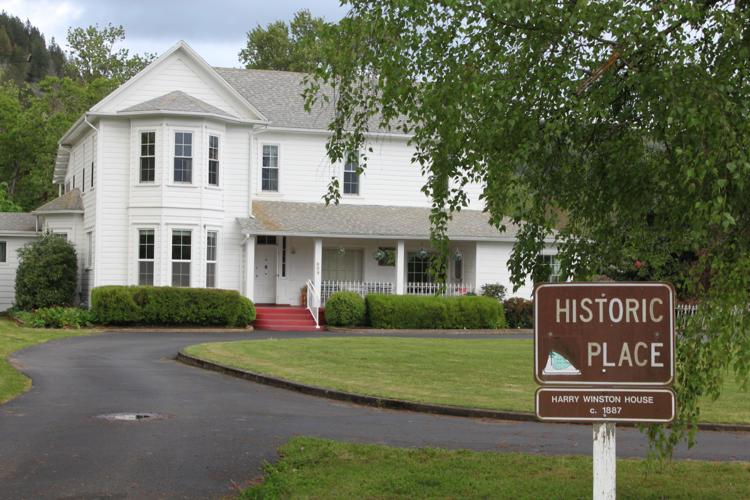 The family came to Douglas County when William Chauncey Winston (1838-1926) originally purchased part of a section of land in 1877 in the vicinity of Winston Section Road, the local farming area. A section is 640 acres. He built the historic house that still remains there today on three acres of land, with the rest of the land having been sold off over the years.
Weese's great grandfather, William Winston, was born in the state of New York from where he took a ship and traveled around the South American horn to settle on the West Coast around 1870, Weese said.
"His wife's family came across on a wagon train at the same time Jesse Applegate came over," Weese said. William Winston's wife, Agnes Mary Rice Winston (1852-1940), was a baby when her parents headed west.
"He was teaching school here and she was his student when they met," Weese said, unsure of the name of the school.
When William Winston built the house, no bridge existed over the South Umpqua River, so he ran a ferry over the river, Weese remembers. Weese also has a logbook that describes every passenger that came across the river, including animals, with costs for the ferry rides ranging from 3 to 10 cents.
"Gammie (Agnes Winston) came here as a baby, so she grew up with the Indians here and got to know quite a few of them," Weese said. "She would have funny stories that she shared with the local children."
A dress that Agnes Winston once wore will be perched on a sewing mannequin on Sunday along with pictures of the family and paperwork like land deeds.
William and Agnes Winston had 10 children, with one being Harrison Abraham Winston, or Harry (1883-1952). Harry Winston married Ulah Edyth Agness Renner and had four children. They were Weese's grandparents.
Weese still remembers Harry Winston taking her out in the fields and picking up some dirt with his hand and saying, "This is what I really love," Weiss said. "He felt the ground, the earth and the farm, he just loved it."
She also remembers stories about her grandmother. If cherry season was fruitful, Weese said Ulah Winston would say, "The cherries are good this year, so we're going to go to Europe next summer."
Ulah Winston would then take her grandchildren, including Weese, on a ship leaving Montreal, Canada, headed to Europe for the entire summer.
Weese's parents, mother Beverly Winston and father Chelsea Browne, met at the Oregon State University bookstore during college. They later got married and moved to the Eugene area. They had four children, including Weese.
Beverly Winston lived in the Harry Winston House before she died in 2011 and left the house to Weese. Her sister, Julie Winston, died in 2013. All Harry Winston's children have now passed.
Today, Weese is a retired school teacher who once taught at Lookingglass Elementary School. She has two children and four stepchildren. She also operates a pottery studio built near the house named Red Bird Pottery.
Also on Sunday, the old Winston School House bell will be rung. The historic bell was recently placed on the Harry Winston House garage in 2015. For more information about the Harry Winston House, call 541-430-6780.