Editor's note: The following is a first-person account of surviving this week's storms in a remote area.
We were expecting nothing but rain on the day the biggest snowstorm in memory hit our farm. There was no warning that we were about to be cut off from the world.
About 5 p.m., we called my mom, Janet Fisher, to see if she wanted to come down for dinner, but it had started snowing and she didn't want to drive down the steep gravel drive that winds two-thirds of a mile to our house.
Nobody knew how crazy it was going to get in sleepy little rural Kellogg, about 7 miles from Elkton, where we all live on the same large farm that's been in the family since 1868.
The snowflakes kept getting larger. The power winked on, off, on, off, on and finally off. It won't likely return for weeks, but we didn't know that yet.
My husband, Robin Loznak, and I listened on the scanner through the evening as call after call about downed trees and power outages and accidents was taken by county dispatch. At one point we heard the dispatcher, overwhelmed, say she just couldn't keep track of everything anymore.
Overnight, a foot of snow fell. Heavy snow following up on days of rain proved fatal to many of the trees in our heavily wooded part of the world.
It's just about the eeriest thing I've ever heard. All through the night — crack, crack, crack — the dying message of dozens of trees as huge limbs and whole trees crashed down in the night. With every crack, our three dogs barked.
At 7 in the morning, my husband called mom. He and our neighbor Todd Hannah prepared to drive up the hill — Todd in a four-wheeler and Robin in a side-by-side — to mount Operation Rescue Mom.
Robin called his brother in Michigan. Unlike us, he was able to get online and told us about a quarter of the county was out of power.
Thirty minutes later, I tried to call Mom to let her know they were on their way. But now, the phone was dead. It still is.
Robin's rig wasn't able to go far up the hill before it just began pushing the heavy snow ahead. He turned around.
Todd made it a bit farther, but there were large downed trees across the drive. Finally, he hiked up and got my mom. She walked out with him, crawling under Douglas firs and oaks strewn across the driveway. She said as they walked she could hear the trees — crack, swish, thud. They were coming down around her.
But by the time she rolled into our driveway, hugging Todd on the back of his 4-by-4, she was smiling.
It still seemed a little like an adventure.
I filled up pots with water so we'd still have something to drink if the tank ran out. We're on well water, but the pump requires electricity. I took stock of the pantry: apples, two boxes of soup, 10 cans of chili, one can of Spaghetti-O's. Four boxes of macaroni and cheese, two boxes of StoveTop stuffing, six Ramen noodle packages, three cans of refried beans, three boxes of cereal. A pack of sausages. A full carton of milk. A freezer full of elk meat.
Robin fired up the generator for the first of what would be many times, to power up one thing at a time, the coffee maker, the microwave, the freezer. Most of the time we left it off to conserve gas. We moved the sausage and milk out to my Subaru, which we have since referred to as the "refrigerator."
Robin and Todd went down the road, and then through the hazelnut orchard to check on the neighbor a mile down the road on the other side of us. Hudson Sherlock is an elderly gentleman, in his 80s or 90s. They found that he had food and coats but no heat. He seemed confused, uncertain where his kids lived (they live just on the other side of the river), and not certain what day it was. It wasn't practical to get him out that day. He couldn't have made the hike and there were many trees down.
His rescue would have to wait until tomorrow.
We dined on sausages and refried beans, cooked in the microwave.
We pulled out the spare bed for mom. She and I slept in the living room near the wood stove. Robin slept in our room. No more cracking trees. I worried about Mr. Sherlock, but I slept.
Robin and Todd decided to mount a rescue of Mr. Sherlock. This would require chainsaws cutting through a lot trees on the way to clear enough of the road so that Robin could get his side-by-side through.
They found him in bed, probably the best place in his cold house, since it was warm. He was in his pajamas and they discovered he hadn't been taking his medication, so they helped him take his medication and get dressed and bundled up. Todd fed him a tuna sandwich his wife Anna made, and Robin gave him weak coffee with lots of sugar that he brought in a thermos.
They then transported Mr. Sherlock to Todd's house before Robin and Todd traveled the other direction, to check if they could get through to Mr. Sherlock's family via Highway 138. They only had to go a short way on Highway 138, across the bridge and then turn left onto the road where Mr. Sherlock's family lives. They tested the way and found that the neighbors on that road had cleared it well enough. Mr. Sherlock's family came to get him.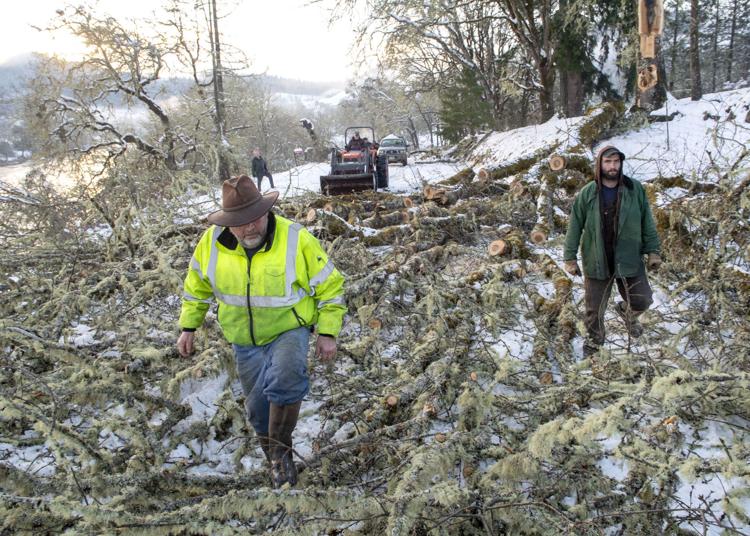 Mission accomplished, Todd and Robin returned. Robin pulled elk steaks from the freezer and cooked them over a camping stove. I made Ramen with frozen mixed vegetables. Once again, we had dinner by candlelight.
We were feeling optimistic — until the snow began falling again. I felt nothing but dread, looking out at the darkening sky as the huge flakes fell and begin to stick.
Another 6 inches of snow had fallen, but no more trees. Robin traveled out to see what the highway looked like. It wasn't great, but it was passable. We decided to head to town. There is still no phone, no power, and the water is running out.
Driving toward the road in our Dodge pickup, we went underneath a tree that had fallen across the road, with branches cut out to make a tunnel.
Once we were out on the highway, we drove through slush, winding from lane to lane to avoid fallen trees. It was snowpocalypse. A few Douglas Electric trucks and tree trimmers drove past. We saw one crew at the side of the road looking up at one of the damaged power poles.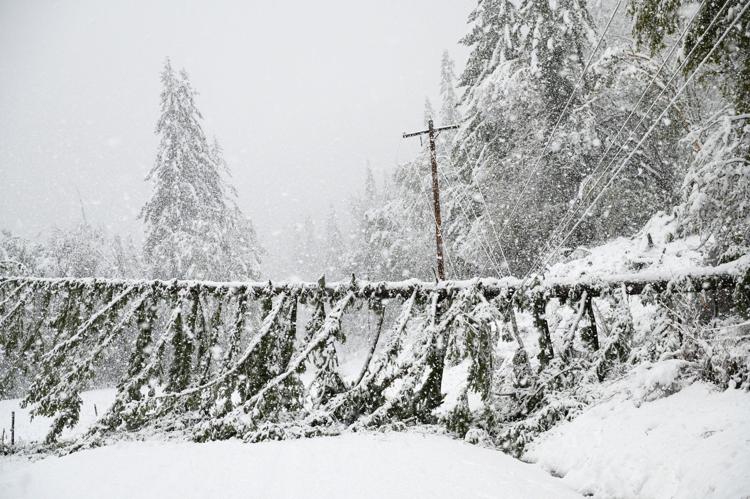 It's hard to imagine we'll ever have power and phone service back. On our own little road, with half a dozen homes, the power line is down in 10 places.
It took us 45 minutes to get to Sutherlin, the nearest town of any size. There was cell service and, for the first time in three days, we were able to call out. My first call was to my son in New York. His first words were "You're alive!" After we reassured him we were all OK — Grandma too — I asked him for news. We hadn't had any. He told us the county's bracing for more snow, but didn't know if the county had declared an emergency yet.
Our next call was to our best friends, the Gottfrieds, who live in Roseburg. They could take my mom in for a while. She cried with relief when we hugged her goodbye.
Then I headed to work, for the first time this week. And here I am, writing this.
If nothing else, this catastrophe has reaffirmed my faith in the goodness of people. We are blessed with the best neighbors and the best friends you could ask for. And we know that there are many emergency workers, strained to the limit, out there doing what they can to pull us back together.
It's going to be a while, yet. Stay safe out there.