With protesters from the timber support group #TimberUnity gathered along the road, Oregon Gov. Kate Brown arrived at the Swanson Group Manufacturing studmill at about 10:45 a.m. Friday for a tour of the mill and a meeting with representatives from several sectors of the local business community to discuss the impacts of the proposed cap and trade legislation.
About 50 people were positioned near the entrance to the mill offices along Old Highway 99S, about a mile south of Roseburg, to greet the governor with signs stating their concerns. But the governor's entourage diverted to an alternate entrance and dodged the demonstrators.
Signs displayed by #TimberUnity supported the timber industry with slogans like "Standing Up for Working Oregonians" and decried the proposed cap and trade legislation that failed in the last legislative session but is expected to be back in the new session.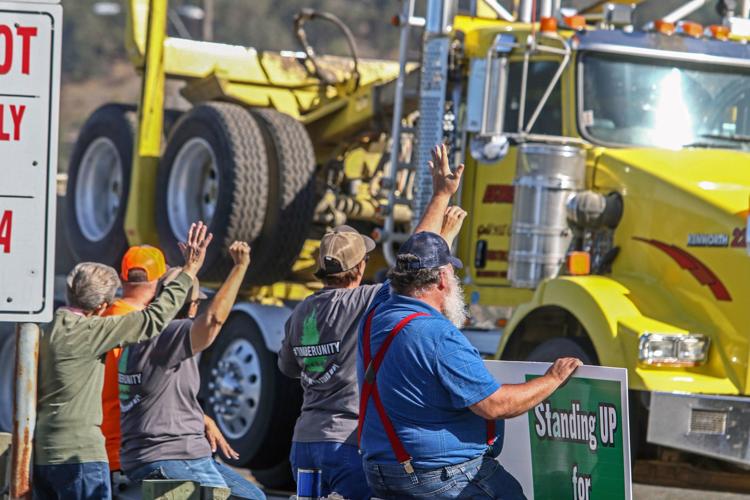 Marie Bowers of Coburg, a board member of #TimberUnity, said they wanted to let the governor know they were still here.
"We felt we needed to be here to let Kate know we're still here and paying attention," Bowers said. "I hope she comes with an open heart and open mind and sees the jobs that natural resources provide and realizes that bills like cap and trade can only hurt those jobs. When you increase energy prices and make them unsustainable you put people out of work."
Ben Chase said he felt he needed to come out to support the timber industry.
"I hope (Brown) sees that we are not liking what she's doing to our mills and just our way of life," Chase said. "And I hope she just kind of goes away."
Douglas County Commissioner Tim Freeman addressed the demonstrators and said they need to stay involved and keep reminding the legislators how the bills will cost jobs and hurt the communities.
"Hopefully the governor will get the message today, but if not, we will be in Salem in February for the next session," Freeman said.
There was a sign saying "Gov. Brown is a Dictator," a table asking for signatures to recall the governor, and others there to support #TimberUnity.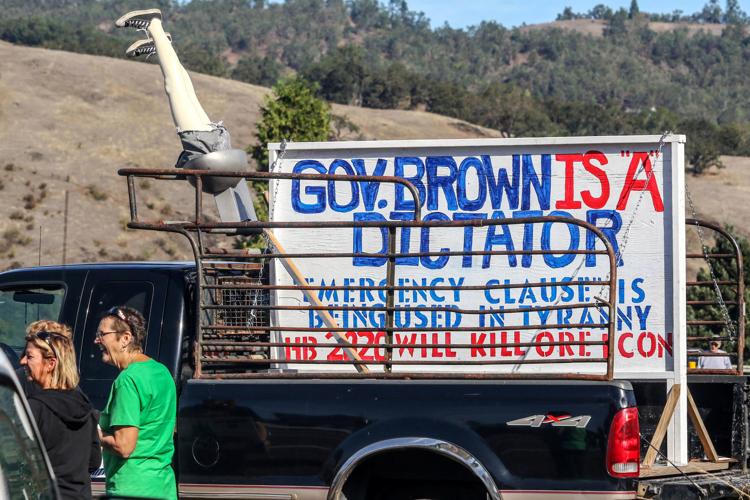 Gwen Feero, a high school science and chemistry teacher held a sign indicating that trees, grapes and other crops need carbon and felt a carbon tax was inappropriate.
"This whole thing that we're going to try to cut back on is an element that you can neither create nor destroy, so it's in circulation in some form somewhere, somehow and our planet needs it," Feero said. "Everything falls around carbon, every organic molecule contains carbon, so this doesn't make any sense to me."
The governor's listening sessions are private, and only invited guests were attend. Brown was not available for comment.
Steve Swanson, owner of Swanson Group, said in an email that after the visit to the Roseburg mill, Brown planned to go to Lane County and visit the Swanson plywood facility and attend another listening session and plant tour.