Harvey and Jean Kloos' home is crumbling beneath their feet.
The couple invested in the manufactured home in a sprawling retirement community in Canyonville because it was nice, spacious — a stark contrast from what most people imagine when they hear the colloquial phrase "trailer park." Knoll Terrace's manicured lawns and tasteful landscaping, winding roads and pine-clad hillsides, and friendly potlucks and barbecues completed the Kloos' vision of peaceful retirement.
Most importantly, it provided a chance at homeownership within the tight budget of their fixed income.
Now, the home is not looking so inexpensive. The evergreen hillsides that make Knoll Terrace so appealing are shifting, melting, causing small landslides and cracking the homes' foundations.
Slowly, the Klooses are watching a two-inch crack splitting through their driveway, and their garage is breaking away from the house. Piles of dirt wash onto their patio with heavy rains. A wall of bricks holds back a towering hillside.
The couple had a foundation company assess the costs of stabilizing the home's foundation. That quote sits at $18,600.
"When we moved here, we didn't see any problems, and they didn't explain any problems," Harvey Kloos said, chair-bound in his living room. He is disabled.
"But after living here for a year, right away, things started happening. We've been living here for 10 years now, and things are not getting better. They're getting worse."
Owners of traditional single-family homes would have to suck up the costs of stabilizing a foundation themselves. But manufactured homeowners face a unique predicament in that they own the home, but not the land. They rent the plot much like a recreational vehicle rents a space in a campground.
So what happens when the land is damaging the home? Who is responsible for the damages?
Rickety plyboard patios, threadbare awnings, chain-link fences and metal signs surround the ramshackle trailers at Junction Mobile Park in Win…
Other Knoll Terrace residents have complained about their homes cracking at the seams. Those complaints fell on deaf ears when it was owned by its founding limited liability company, the Place Family.
The park was bought up by Granite Knoll Terrace, a subsidiary of Inspire Communities, in 2015. Residents broached the issue with the new owners in February of this year, then sent an official letter in April. The company subsequently sent its regional manager to speak to residents, then an engineer showed up in August to assess damages inflicted onto several properties.
Since then, the company has not breathed a word of its intentions to fix things. It did not respond to The News-Review's requests for comment.
Knoll Terrace is hardly unique in experiencing shifting soils. Few plots in Douglas County are naturally stable, says Ryan Beckley, chief executive officer and owner of TerraFirma Foundation Systems.
Black mud and clay soils shrink and expand with the season, and eight months of rain threatens to produce landslides. Only the expert eye of a geotechnical engineer could properly plan out a stable foundation.
Earlier this year, Beckley's company assessed some Knoll Terrace properties upon the residents' request, including the Kloos home.
"This house definitely has a foundation issue that is very significant," he said. "The soils that are underneath this house are failing. And what I see there suggests that we don't just have expansive soils, because of the size and nature of the cracks. We actually have settlement."
Rickety plyboard patios, threadbare awnings, chain-link fences and metal signs surround the ramshackle trailers at Junction Mobile Park in Win…
Settlement could mean a few things: either the contractors did not properly compress the earth before they built on top of it, or they did not use proper fill materials. There could also be decomposing organic materials underneath the foundation.
Years ago, contractors did not need to hire geotechnical engineers for foundation planning; nowadays, they're required to by law.
Down the street, Harlene and William Pickett have similar cracks jutting through their driveway. A dark web spreads through their hallway each winter, and they can't open some windows in their living room. The back wall of their garage is crumbling as the dirt beneath it shifts each year, and its door leaves a two-inch gap when it closes. They fear a landslide each time it rains.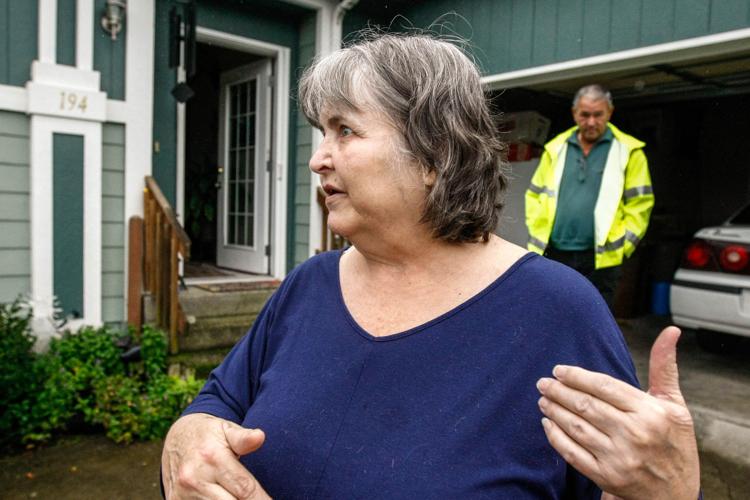 The Picketts considered moving their house to another property, until they realized their mobile home is not so mobile. It would cost them about $50,000 to move it to another property.
And that's if they can find another park that will accept it. Parks have rules regulating which homes they accept. They frequently don't accept older models, or they simply don't have any vacancies, said Mike Fieldman, a member of Oregon's Housing Stability Council. He is also the executive director of Roseburg's United Community Action Network.
That's the catch when it comes to living in a manufactured home park. The price might be right, but residents have few options when it comes to moving their property if they face landowner issues, such as property damage or rent increases.
Many, but not all, landlords know this and take advantage of it, Fieldman said. They raise the rent in increments every year, increasingly pushing the boundary on what their tenants can afford.
"It's actually a very lucrative business," Fieldman said. "A vast majority of mobile home parks in the country are owned by a handful of corporations. That is their business: buying up and operating mobile home parks. They do it because they know they have a captive audience."
Knoll Terrace is owned by Inspire Communities, a new company formed by Follett Investment and Bertakis Development. It owns 40 parks across the country.
Verlene Smith saw Knoll Terrace as a chance for investment, too, but hers was much smaller.
She and her husband purchased their first manufactured home in Knoll Terrace after they retired. Being from the California dry deserts, they did not know to look for issues with soggy lands when they bought the property in 2004.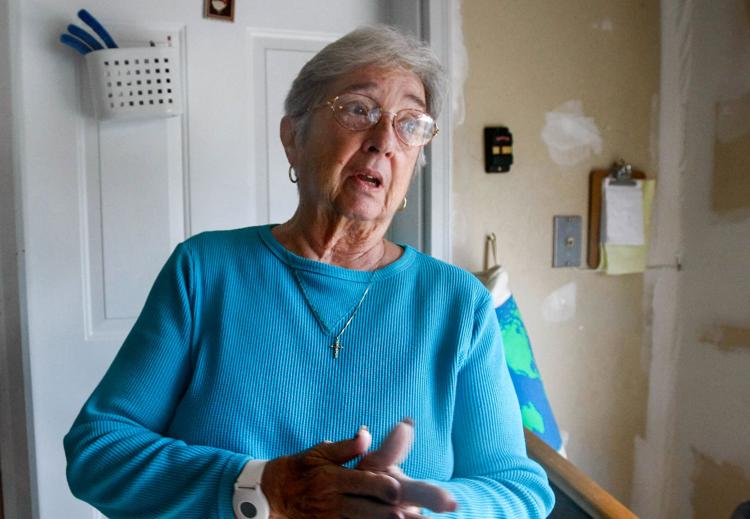 When some cracks popped up in the driveway, her husband thought nothing of it. He has since died, and the problem has gotten worse. The cracks in the driveway spread through to the garage, which is visibly tearing away from her home. The floor in her house is tilting, causing doors to swing shut on their own.
TerraFirma provided a quote of $15,000 to stabilize its foundation.
"I can't afford to fix this," Smith said. "This is all my kids have. This is their inheritance. There's no way they could sell it right now, not for any money that it could be worth.
They would get nothing for it."