Update at 4:30 p.m. Tuesday: While southern Oregon is absorbing the brunt of Tuesday's winter storm, Douglas County has not been immune from the predicted 'bomb cyclone.'
Highway 138E is closed from Toketee east to U.S. 97 due to blizzard conditions, according to a press release from the Oregon Department of Transportation.
Deputies and road crews have responded to scattered downed trees. Motorists are encouraged to slow down and allow more space between vehicles.
Original story: The National Weather Service is predicting rain showers before 11 p.m. Tuesday in the Roseburg area before turning to rain and snow showers overnight. New snow accumulation of less than a half inch is possible.
Chains are required for vehicles on both the northbound and southbound lanes on the Interstate 5 Siskiyou Summit south of Ashland. Travel is not advised, due to blizzard conditions in southwest Oregon.
People with plans to get away early for the Thanksgiving weekend, according to the National Weather Service, may want to wait until Wednesday afternoon to travel.
Weather Service officials said Monday a low-pressure system moving in from the Pacific Ocean toward Northern California and Southern Oregon is what they describe as a "bomb cyclone." Because of the rapid drop in air pressure, it has the potential to bring heavy winds, especially along the Southern Oregon and Northern California coastlines. Heavy snow is expected in the higher elevations and rain and snow mixed in the lower elevations.
Officials warn of likely "significant travel difficulty" from Tuesday afternoon into Wednesday morning. Heavy snowfall is expected in the Cascades over the passes and down to about 1,000 feet by Wednesday, making for tough driving conditions.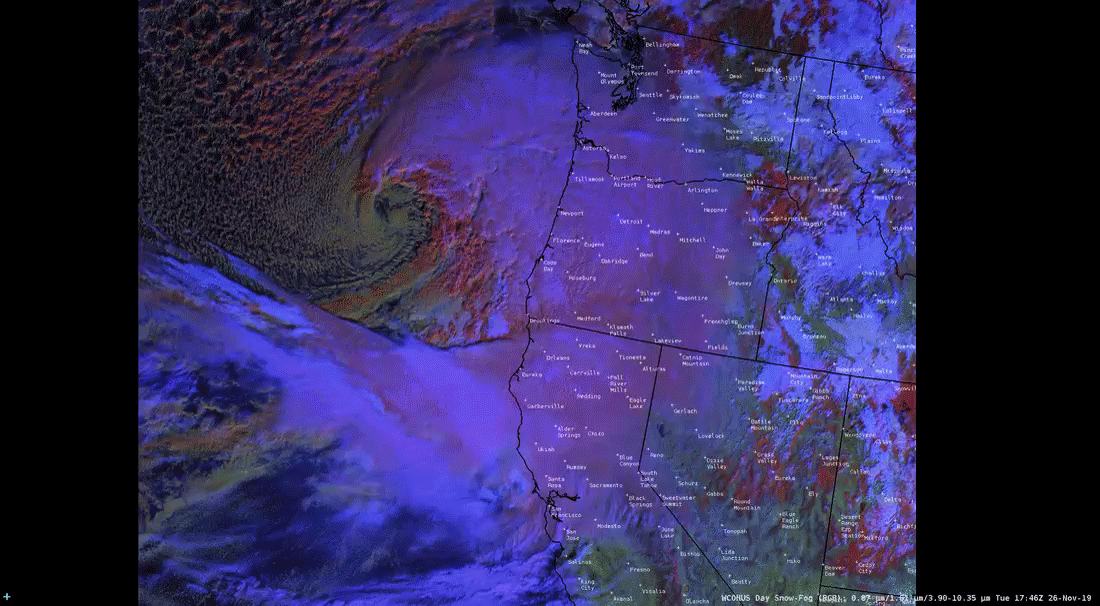 "What's unusual about this one is that when it's a couple of hundred miles offshore, the pressure starts dropping rapidly with it," said Brett Lutz, a meteorologist with the Weather Service in Medford. "It will be causing quite a bit of wind to stir up."
But because of the Coast Range mountains, Lutz said Roseburg will be somewhat sheltered from the high winds, which are expected to pound the coast, especially in the Brookings and Crescent City areas with possible hurricane-force winds.
With the anticipated heavy Thanksgiving week traffic, a major concern is the snow level through Wednesday morning, expected to be well below pass levels for those driving south over Canyon Mountain, Smith Hill and Sexton Pass. The Siskiyou Pass south of Ashland could see 10 to 12 inches of snow and south of the California border Mt. Shasta City is expecting 1-2 feet of snow.
"The snow levels will start coming down from 2,000 feet Tuesday afternoon to about 1,500 feet by Wednesday morning and maybe down to 1,000 feet," Lutz said.
Lutz said forecasters are not expecting snow to make it all the way down to the valley floor, but warns residents and motorists to be prepared.
"With these intense low-pressure systems, sometimes we get surprised to some degree how low snow levels come down, but with the track of this one, I think the main area of concern is farther south," Lutz said.
Travel is strongly discouraged through Wednesday morning because of possible dangerous driving conditions. But officials say if you must travel, keep tire chains, a flashlight, blankets, food, water, medications, and a fully charged phone with you.
"It's going to start to get bad on I-5 all the way through Wednesday morning," Lutz said. "Then things settle down with a colder air mass in place.'
Thanksgiving Day is expected to be cold but dry with below-freezing temperatures overnight. That could create icy conditions on wet roads. Another storm may be moving in over the weekend, but not with the potential magnitude of Tuesday's storm. The storm is not expected to have a big impact on travelers heading home at the end of the holiday weekend.