Instant noodle cups, canned beans and boxes of microwaveable popcorn line what little shelf space Alvin and Marian Catron have in their motel room, where they have been living for the last four months.
Alvin's heart medication and tissue boxes are neatly arranged on the nightstand. The beds are tightly tucked as if a maid visited recently.
"Our daughter did them," Marian said. "She does a very good job."
The couple and their adult daughter, who is mentally disabled, were grandfathered into their room at the Motel 6 in Roseburg. Had they tried renting a room last month, they would have been denied. That is when the motel implemented a new policy: "As of 4-7-17, we are no longer accepting guests from Douglas County," read a sign taped to its front desk last week. "We apologize for any inconvenience."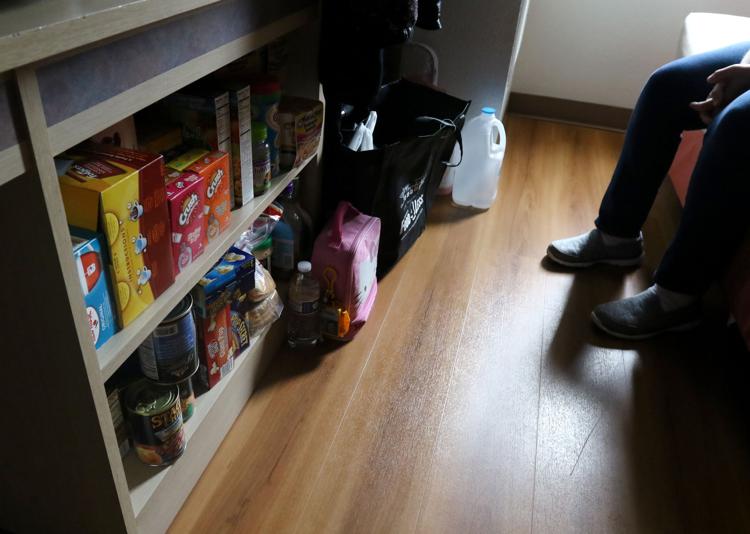 Alvin and Marian are in their 70s. They once owned a house on West Esperanza Court in Roseburg, near where the Interstate 5 freeway crosses the South Umpqua River. After living in the home for 20 years, they received a notice of foreclosure.
The foreclosure was a long time in the making. Marian was diagnosed with cancer in 2012, just a few years after Alvin had his second heart surgery. The family poured money into her chemotherapy treatments and eventually found itself thousands of dollars in debt.
"We had to pay the price for the cancer, which I don't feel bad about at all," Alvin said. "So we went broke and we don't care because we're old. We don't need credit no more."
The Catrons lost their house last December. They packed what they could into a storage truck and the rest went to the sheriff's department. They have been living at the Motel 6 ever since as they look for a home to rent.
That's not an easy task in Douglas County. Property management companies and nonprofits say their rental vacancy rates hover between 1 and 3 percent. The U.S. Census had the county's rental vacancy rate at 5.8 percent in 2010.
"We're seeing people living in cars, living in tents, doubling up, doing what they need to do to survive," said Mike Fieldman, executive director of the United Community Action Network in Roseburg. "Until the housing market improves statewide, it's a problem. And motels become an option. Hopefully, they continue to allow people to stay there because the alternative option for some people is homelessness."
The Catrons have made accommodations to live comfortably in their small room. Marian uses the microwave and a crock pot to heat family meals. She is to credit for the neatly packed shelves, the organized collection of toothbrushes and medicines by the bathroom sink, the spotless floors. She works as a maid in a nearby hotel, so she insists on cleaning her own room and making their beds. The Motel 6 staff never enter their room.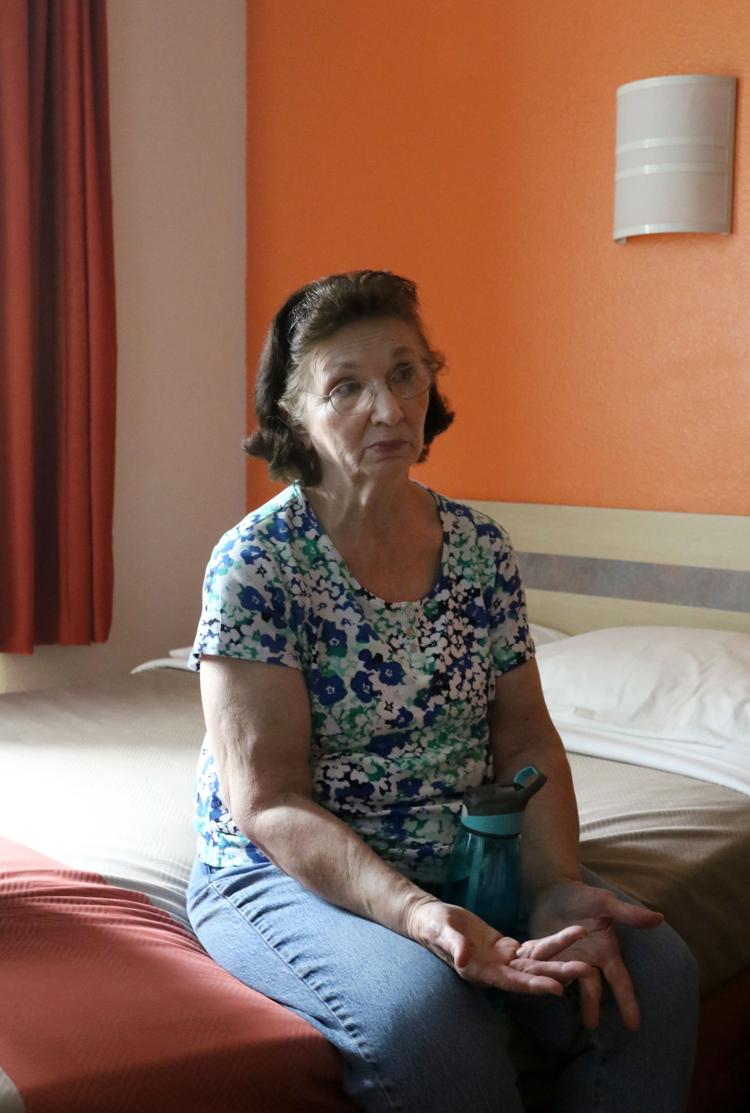 People who are suddenly rendered homeless often seek temporary shelter at a nearby motel. For that reason, the Oregon Housing Authority conducts homeless counts in motels.
Many long-term motel guests don't have enough immediate cash on hand for a down payment on a home. Motels are thereby a cheaper short-term option — a Band Aid that temporarily covers up homelessness — but they are extraordinarily more expensive in the long run.
Alvin said he doesn't know how much longer he and his family can afford to live at Motel 6. They are paying $1,500 a month; that's about $450 more than it would cost to rent the average two-bedroom house in Eugene, according to Zillow data.
The Catrons are living off Marian's hourly wages, as well as social security from Alvin's retirement and Susan's disability. It's not much.
"It's like living on the river," Alvin said. "I'm totally homeless. I used to help the homeless; that's what I did when I retired, not knowing that I would be in their shoes one day."
Fieldman and UCAN staff help people like the Catrons by connecting them with UCAN's affordable housing units. But the nonprofit, and others like it across the county, have months-long waiting lists. He said he hopes the wait does not discourage people from reaching out.
"People should never self-select themselves out of applying," he said. "Even though we may have a long waiting list, their particular unique needs may actually bump them up our priority list."
The News-Review contacted major lodging facilities across Roseburg. At least one other hotel is not renting to Douglas County residents: the Holiday Inn. Roseburg employees with the Holiday Inn and Motel 6 declined to comment.
The policy of banning local guests seems to be common, at least in Medford, where several motels will not rent to people living within a 30-mile radius.
One Medford motel employee, who asked to go unnamed, said residents cause problems and are more likely to leave drug paraphernalia behind. By contrast, an employee at a different Medford motel said drug abusers come from all places.
"That's really anywhere; even people from out of town, they've left stuff in rooms before, too," said Kayla Johnson.
She added that locals know people in the area, so they are more likely to have visitors and make noise.
Area of residence is not a protected class, so the motels' ban is not considered direct discrimination by state or federal standards. Banning residents from a specific county, however, could have an indirect impact on a protected class of people.
Motel 6 in Roseburg has banned renting to Douglas County residents.
"What's the makeup of residents of Douglas County?" said Allan Lazo, executive director of the Fair Housing Council of Oregon. "Who are we excluding with a policy like that? In some cases, you might be excluding people with disabilities who are recovering from drug addiction or alcoholism."
Disparate impact cases are hard to prove, Lazo said, because it's hard to get the right statistics. As for fair housing rules, motel guests that stay longer than 30 days are covered under Oregon's landlord-tenant laws. That's because such extended reservations would no longer fall under the state's definition of "transient occupancy." Even so, Lazo said he doubted those guests would be protected by state fair housing laws.
Fieldman is not sure how he feels about the motels' bans on local guests. He said he wishes people would not have to resort to living in motels at all.
"What I'd prefer is that everybody who wants an apartment, a home, a place to live on a permanent basis — they'd get it," he said. "That's what I'd prefer. That's what I want. We're far from that."