Rickety plyboard patios, threadbare awnings, chain-link fences and metal signs surround the ramshackle trailers at Junction Mobile Park in Winston. Knock on a door and someone will yell out, but no one will answer.
Residents here have settled into their spaces over the years. They have built gardens and walls and fences bordering their small homes, protecting them from a world that has deemed them "a collection of old junkers," as one man put it.
Resident Rosemary Mullins was not surprised when she heard the park would close in a few years to make way for a business complex. At 67 years old, she has gotten used to pulling her recreational vehicle around to any place where she can afford the rent. Things happen, things change.
"I got to move on with my life," she said.
Even so, she regrets having to dig up her succulent garden one day. It is bordered by hand-picked rocks and lawn ornaments she has had for years.
"My girl, she did those boots," she said, pointing to old leather boots bursting with succulents. "Cool, huh?"
More than a dozen RV and manufactured homes make up Junction Mobile Park, which is tucked behind a commercial parking lot where Highway 42 hits Main Street. It is part of a 2-acre plot purchased earlier this year by Our Winston Neighborhood, a group aiming to become a corporation. The group's main goal is to transform the blighted parcels into a shopping center called the Elephant's Walk, a nod to Winston's claim to fame, the Wildlife Safari.
The group will begin the eviction process in about a year, board member Jennifer Mitchell said.
"The residents are all aware of the plan," Mitchell said. "We've been really transparent with them."
The group touts community ownership in its corporation. Meanwhile, it has determined that choosing business over housing was in the overall community's best interest.
"The community has been asking for downtown, pedestrian-friendly spaces," Mitchell said. "So that's what we plan on providing."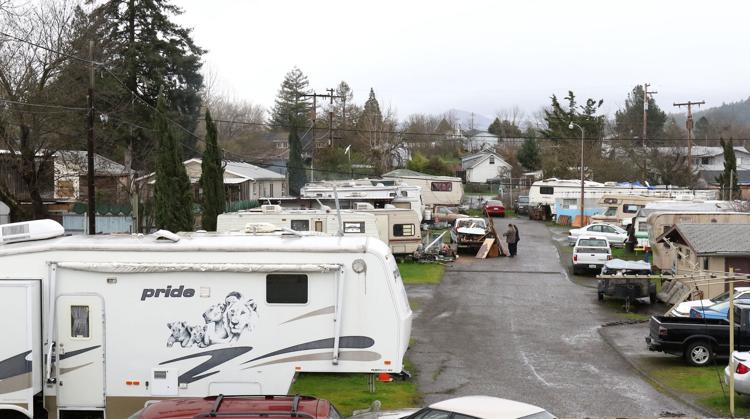 PARK CLOSURES, FEWER HOMES
Oregon was hit by a wave of manufactured home park closures after the 2007 market crash. Since January that year, 25 parks providing 1,454 spaces have closed.
That means more than a thousand people and families across the state lost their homes. They were forced to look for vacancies in other parks, but most likely never found them. No new parks have been built in Oregon in recent memory, and few existing ones have open vacancies.
"When they're gone, they're gone for good," said Ishbel Dickens, who recently retired as the executive director of National Manufactured Home Owners Association. "You have just lost that number of affordable homes in your jurisdiction, in your neighborhood, and they're not going to be replaced."
Manufactured home parks provide a significant crop of affordable housing; rents can hover around $300 a month, and a home can be purchased for $2,000 to $100,000 — a range reflecting a home's age, size and condition. Still, with land values skyrocketing, financially strapped landowners are increasingly tempted to sell to a business developer.
Harvey and Jean Kloos' home is crumbling beneath their feet.
Manufactured home park residents own the home, but not the land. So when they are evicted, they have a few choices of what they can do with their home: move it, sell it, or abandon it.
Moving a home can cost upwards of $10,000. There is also the additional risk of it falling apart during the moving process. Most parks, and many manufactured homes, were built before 1980. They are less likely to survive the moving process, or be accepted by another park with regulations on how old a home can be.
That's why the industry prefers the term manufactured home over mobile home.
"They're not really mobile," said Mike Fieldman, a member of Oregon's Housing Stability Council. He is also the executive director of Roseburg's United Community Action Network.
"A lot of the times, they're so old, they're not going to handle the move real well," he added. "Then it's so expensive to move them, it's almost cheaper to abandon them and buy a new one."
So what happens to the residents who can't afford to move their home, or to abandon it and buy a new one?
"Those people are going to be put on the waitlist for subsidized housing," Dickens said. "They're going to go from unsubsidized home ownership to subsidized rentals or homelessness."
The statewide trend of dying parks prompted Gov. Kate Brown to bring park preservation into the limelight. She formed a cohort of state and housing agencies that worked on an agreement to preserve parks. In September, they released an 80-page toolkit outlining ways local governments can handle park closures through "disaster preparedness."
It suggests communities take inventory of their existing parks and keep an eye out for risks of closure, such as sewer system failure, park ownership and zoning status.
The zoning status, it reads, "is an indicator that other economic and development pressures may be in existence, generating potential for redevelopment to designated conforming uses."
The Junction Mobile Park in Winston is partially zoned commercial and residential.
Like many other Douglas County communities, Winston's sluggish economy has not fully recovered from the financial crash. Our Winston Neighborhood hopes its new business center will attract people to drive past the Wildlife Safari and into its town center.
Still, there are benefits to increasing the housing supply for regular consumers, says Merten Bangemann-Johnson, whether they are low-income retirees or working professionals. He urges communities to consider adding units to the housing market, especially when rental vacancy rates hover around 1 percent across the county.
"Ultimately, if folks can't find some place to live, they will move on," he said. "They will move to another community, and that has a negative economic impact. They won't buy their goods and services in town. Employers are feeling the pinch, too. It's getting harder to recruit folks in the area."