Driving through Roseburg's Mill-Pine District, it seems like every other house has boarded-up windows, lawns overrun with weeds and sinking roofs layered with moss.
Roseburg officer Tony Powers knows the area well. He patrols the streets as often as he can with an eye on the abandoned houses. Some of the city's homeless population seeks refuge from the winter's dipping temperatures and heavy rains in these empty homes.
"If they have a place that they can go that's going to take them out of the weather, they're going to find those places," Powers said during a ride along with reporters last month.
There are agencies that provide beds for people who are homeless, he noted. The Roseburg Rescue Mission has two facilities, one for men and another for women and children, and warming centers open their doors when temperatures dip below freezing.
Supply and demand are basic economic principles that can affect a given market.
But people who also struggle with substance abuse or mental instability, or both, might opt for a home of their own. That's when they trespass on an abandoned property and leave behind a trail of dirty clothes, empty beer cans and syringes.
"That's not my fault, that's their fault," Powers said. "That's something they chose to do. It's a lifestyle they chose. If they didn't choose that lifestyle, they wouldn't be out in the cold weather."
Powers's least favorite spot to patrol is an empty three-story business complex in downtown. Broken windows make for easy entrances, and people will set up their tents inside. Since the plumbing doesn't work, they fill toilets that don't flush, or they turn buckets (and, in one instance, a fish tank) into urinals.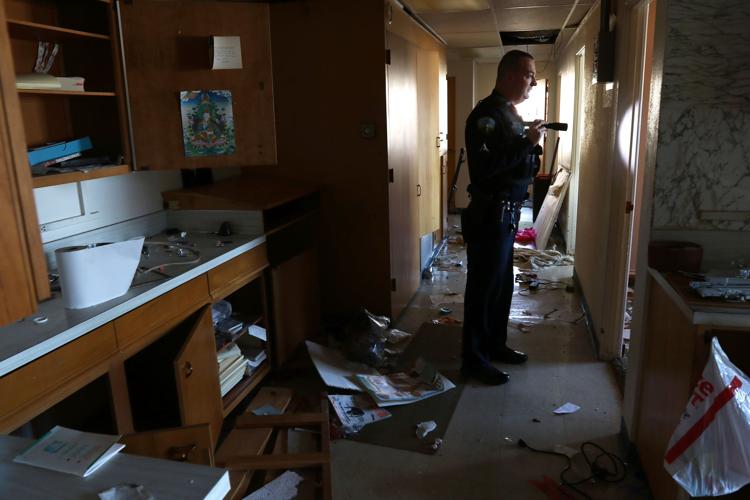 The historic Mill-Pine District is nestled between downtown Roseburg and the South Umpqua River. Most of its homes were built in the early 1900s and are distinctively American Craftsman: low-pitched gable roofs, spacious porches, tapered columns. The types of homes people in Portland are scrambling to snatch up for hundreds of thousands of dollars, cash in hand.
Abandoned properties, sometimes called "zombie homes," make the Mill-Pine District less appealing. They sit vacant for months, sometimes years. Without proper attention, they decay and sink into themselves. Then trespassers find their way in and crime rates start to rise.
Police calls from 2016 show the district had more trespassing problems than any other residential area in Roseburg. That same data, obtained by The News-Review in a public records request, shows calls that use the words "squatter" and "vacant" tend to clutter in the Mill-Pine District.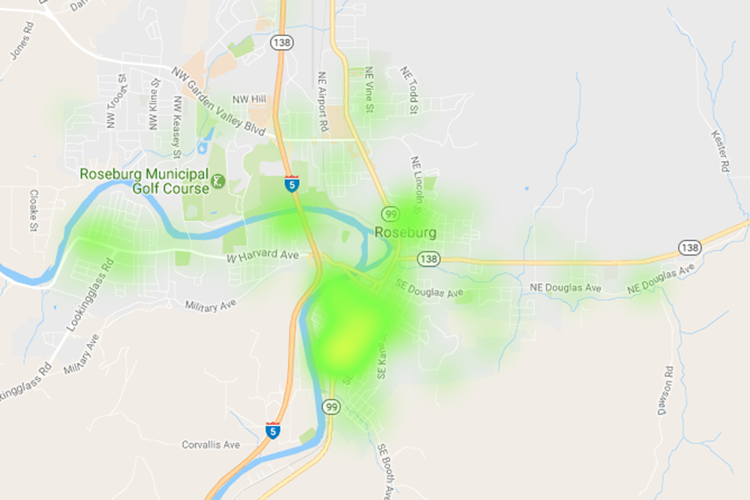 ABOVE: A map showing the concentration of calls for service that include the keyword "vacant" or "squatter" from 2014 to 2016.
These abandoned homes and many others peppered around the county and state are lingering ghosts of the nation's 2007 financial crisis. Prior to the crash, banks doled out mortgages to people who couldn't afford them. When the housing bubble popped, those people lost their homes and a wave of foreclosures hit the market.
"At one point, in about 2010, there were so many that (banks) started withholding some homes from the market," said Victoria Hawks, a Roseburg Realtor. "And that's why we ended up with problems further down the road."
Before foreclosing on a home, banks have to give homeowners six months to catch up on payments. That extension comes with additional fines and fees. Homeowners might throw in the towel early and move away before the foreclosure process is completed.
"If the people couldn't afford to make the payments before, allowing them six months to catch up and still pay more is beyond the pale," Hawks said. "But that's the law now. It didn't use to be that way, but now it is."
After starting the process, a bank could suddenly decide not to foreclose on a home to avoid obtaining another liability, reads an Investopedia article titled "Zombie Titles."
They are called zombie homes because they have, in a way, come back to life from the death of foreclosure.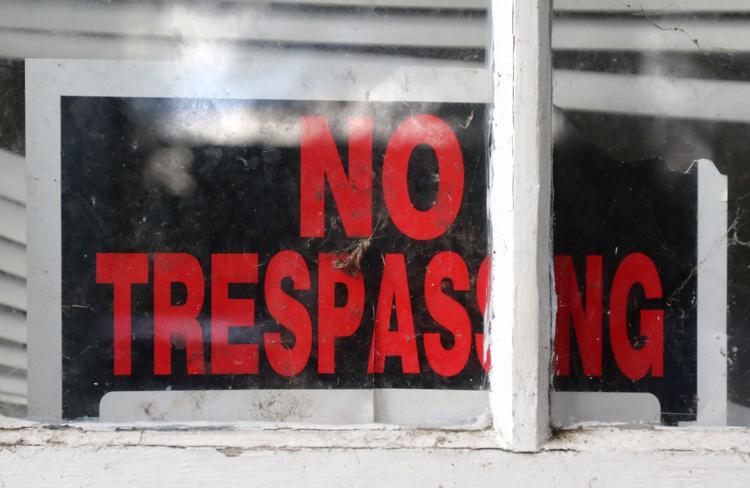 Banks are not legally obligated to notify homeowners of their decision to avoid foreclosure, so it could be months or years before homeowners figure out what happened. Meanwhile, the homeowner collects debt from not paying property taxes, and ordinance violations for letting the home become an eyesore.
Rifling through a paper trail to find exactly who owns a vacant home can be arduous, particularly for police officers who need a homeowner's permission to enter an abandoned house.
Like Roseburg, most cities and counties do not keep track of which homes are vacant and abandoned, and who owns them. The tax assessor's office provides some information, but it is not always relevant.
"We get most of our information from citizens groups," Roseburg code enforcement officer Dennis Randolph said. "They do more tracking on that than the city does."
Without knowing the exact owner, the city does not know who to cite for ordinance violations such as garbage buildup or excessive weed growth. With no one to hold accountable, the house slips into decay and drags down values of surrounding homes.
Sutherlin has taken the issue into its own hands by requiring homeowners and banks to register their vacant properties with the city. This way officers know who to call when there's a problem. Randolph said he and city staff are considering a similar registration process.
Douglas County is not alone in the vacant and abandoned home issue. Portland City Council decided to speed up the foreclosure process for five homes last year, after it voted to use eminent domain to foreclose on them, reads an Associated Press article from June 2016. The mayor has his eye on another 25 to 30 houses.
Hawks, who was a Roseburg city councilor until last month, said there might be some unintended consequences if Roseburg used a similar tactic.
"I don't think they would want us to flood the market again with less desirable homes at cheaper prices, which then turn around and make other homes worth less," she said.
The county's abandoned homes, no matter how derelict they become, will eventually get on the market and they will get multiple offers, she said. That's because the housing market is tight, even in rural Douglas County.
"They aren't just left forever, it just feels like forever those first few years," Hawks said. "It's really been hard. It's been challenging, let me tell you."
ABOVE: A map of all trespassing calls for service in 2016 in Roseburg.