Longtime farmer and community leader Don Kruse died Sunday at age 87.
Into his 70s, Don Kruse was still actively managing the farm he built into a successful enterprise. Kruse Farms has become a fixture in Douglas County, offering 60 types of locally-grown produce and operating a popular fruit stand in Garden Valley.
Don's son Jeff Kruse said Monday he remembers his father as a man who was driven both to grow his business and to help his community. The elder Kruse served on the Roseburg School Board for 20 years, the state Board of Education for 10 years, and was also on the Douglas County Fair Board.
"It's something he got from his dad and we got from him. It's part of your responsibility to give back to the community," said Jeff Kruse, who served 22 years in the state Legislature.
The Kruse family's farming operation was started by Don Kruse's father, H.B. Kruse, who bought his first 15 acres of property in 1923. The Kruse family purchased several pieces of property, including what's now Kruse Farms in Melrose.
It grew and grew. Originally, it was a wholesale produce farm. Jeff Kruse recalled that in the summer they raised cantaloupe and watermelons, and in the winter, crops like turnips and cauliflower. During the summer harvest season, they'd fill a semi load of cantaloupes a day, he said.
Their produce was sold to wholesale outfits around the state, but then times started changing. Wholesalers began to consolidate or go out of business as the trade became more regional. The wholesale operations in Roseburg and Medford that supplied local stores closed. It became really hard for small operations to compete in the wholesale market.
Kruse Farms changed with the times. They went from raising half a dozen crops on a large scale, to producing 60 on a smaller scale.
They purchased the fruit stand they now operate from the Laurance family about 30 years ago. It cost them $450,000 — a decision that put the family in debt. It was a risk, but it paid off.
Don Kruse continued farming into his late 70s, until he started having health issues. Jeff Kruse said his father had trouble accepting it. He still wanted to get back on his tractor.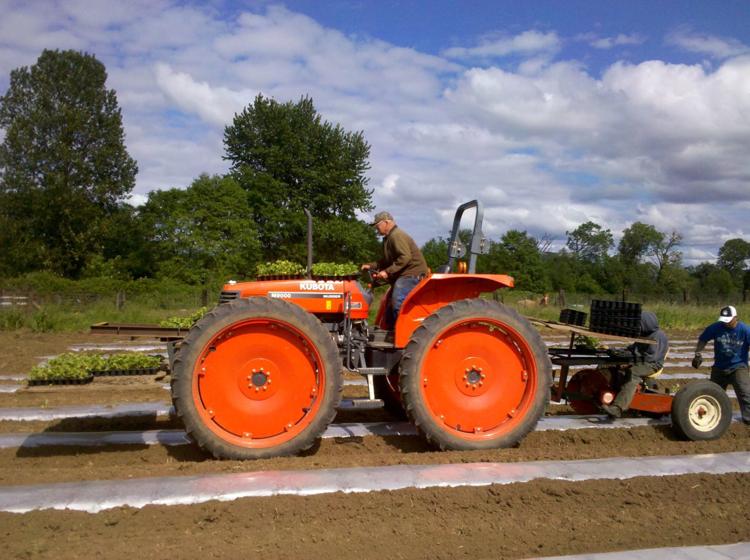 "I was always hoping at some point he'd step back and appreciate his amazing life he had and all he accomplished.
He took this little tiny farm out here in Garden Valley and turned it into Kruse Farms," Jeff Kruse said.
If an interview Don Kruse gave The News-Review reporter Craig Reed in 2009 is any indication, he did take pride in that accomplishment.
He told Reed that the family's farming income in the 1950s was about $3,200 a year. The family lived off of its own fields, eating what was raised.
"We had some bad years on the farm," he said. "But in those tough years, we kept saying the year of the farmer was coming. It did get here. If I was going to do life over again, I wouldn't change my life at all."
Jeff Kruse said his father was a driven man, and always busy.
"My dad was somebody who liked being in charge, and he was very good at it," he said.
He was clever. He could look at a system somebody else had developed to sort cantaloupe and reproduce it at his farm.
And while he worked hard, he also liked to have fun. Jeff Kruse said the family enjoyed water skiing, and Don Kruse built ski ramps for them.
He wasn't driven by ego, Jeff Kruse said.
"He was driven by trying to do the right thing," he said.
The last couple of years had been tough, and Don Kruse spent the last six months in the hospital.
"Nobody lives forever and it was his time. I like to believe he's at peace now," Jeff Kruse said.
The family plans to have a private burial but will plan an appreciation of life ceremony in the future.
Don Kruse is also survived by his son Denny and daughter Karen Corpron. His wife Sally Kruse died before him.