A pipe depositing raw sewage into a storm water detention basin at the recently constructed Hampton Inn and Suites has been traced to at least three guest rooms on the property, the hotel's manager said on Friday.
Hotel officials began investigating the leak after officials from the Oregon Department of Transportation notified the hotel about the sewage leak on Monday.
The detention basin, located between the hotel and Interstate 5 to the west, is open to the air and visible from the hotel parking lot.
Used toilet paper littered the basin, which leads to the city storm water collection system. The stench of sewage was apparent near the storm water pipe as well as a green film below the pipe.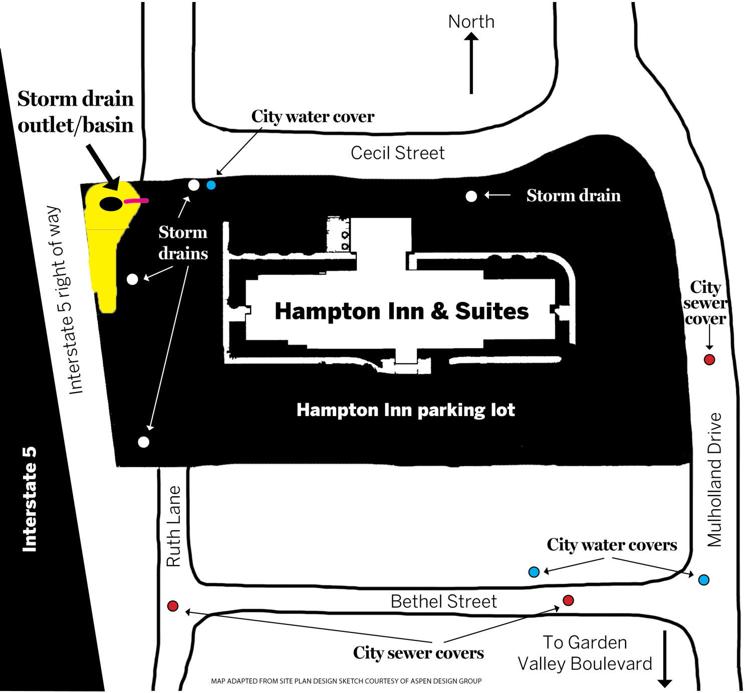 Roseburg Urban Sanitary Authority determined the leak didn't come from the city's public sewage system after an investigation Monday night, according to RUSA General Manager Jim Baird. RUSA officials used video cameras to check the the connection between the hotel's main sewage line and the city system. The connection was intact.
"We told them you must have a sewer line inside the hotel somewhere that inadvertently got connected to a storm connection, which is then going down the system and ending up in the detention pond," Baird said.
After its investigation, RUSA provided the hotel with dyes to flush down hotel room toilets and see if the dye ended up in the detention basin. The hotel didn't determine which rooms the leak came from until the green dye appeared in the basin Friday afternoon.
Allen Pike, hotel manager for Hampton Inn, said he doesn't know how long sewage has been leaking.
The hotel, which opened in April, is owned by the Hanna family of Roseburg. The family also owns a Coca-Cola distribution center in town.
The three rooms that appear to be the source of the leak have been closed to the public. The hotel hasn't informed guests with future reservations that their rooms have closed because the guests may cancel reservations voluntarily, Pike said.
The hotel doesn't know what is causing the three rooms to deposit sewage in the storm water detention basin.
"We've been full for quite a while since we've opened, so those rooms have been used constantly," Pike said. "There haven't been any issues that have happened up until this week."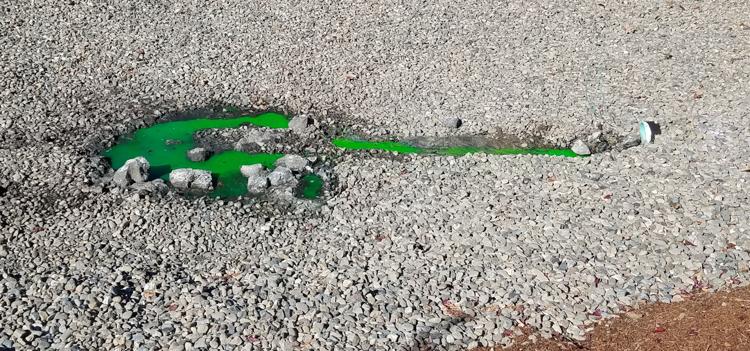 The general contractor for the hotel, Jansen Construction, is going to investigate how the leak occurred this weekend, Pike said.
Roseburg City Manager Lance Colley was first informed about the leak by The News-Review on Friday.
Pike said Thursday the hotel hasn't informed the Oregon Department of Environmental Quality about the leak. DEQ couldn't be reached for comment.
People risk E. coli and Salmonella infection if exposed to sewage, according to the Center for Disease Control and Prevention website.
Oregon Department of Transportation officials familiar with the incident could not be reached for comment.