Once a month kids at the Boys and Girls Clubs of the Umpqua Valley line up for a chance to ride a bike for two minutes — but it's not just any bike. It's hooked up to a machine that generates electricity, and in turn, powers a smoothie machine that makes healthy drinks.
"My legs kind of got tired," said 8-year-old Isabella Hill, after her two-minute ride.
"But the bike makes power for the smoothie blender, and we get a smoothie once we're done. It's got milk and strawberries, and bananas, and yogurt and quinoa, and it's really good," said the Fir Grove Elementary third-grader.
More than 100 kids participated in the Pedal Power event Wednesday afternoon at the Roseburg club. It's become so popular among the kids that a second bike was added this month, and two more are expected to be added in the future.
AmeriCorps Service worker Hanna Deacon started the Pedal Power activity, which is incorporated into the club's Healthy Lifestyles and Garden Club program. The kids create power by pedaling and that power goes into a power box to run a blender, making strawberry-banana smoothies.
"These are some of my favorite days," Deacon said. "The kids have so much fun and they're always so excited to be on the bike and cheering each other on, so I just love to see everyone enjoying this time together and supporting each other."
Deacon said the main thing is to keep moving when you're on the bike, although some of the riders pedal as hard as they can for the full two minutes.
Deacon said they only put healthy ingredients into the smoothies, including fresh fruit, sometimes vegetables, and in this batch, they put a gluten-free grain called quinoa that provides extra protein. They don't add any sweeteners to the smoothies, so it's all natural food.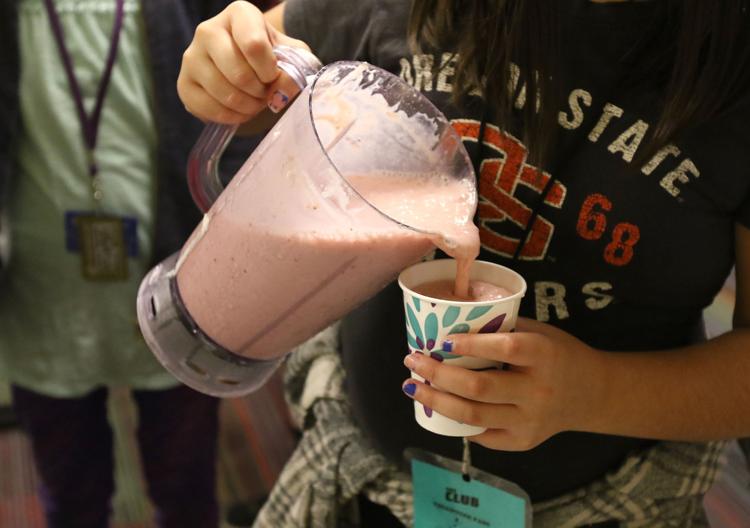 Besides the healthy snack and the exercise, the kids learn a few other things in the process. Some days, they ride the bikes to power other appliances and electronics.
"This is a great learning opportunity to learn about how power is made, as well as enjoying a healthy afternoon snack, and staying active in that after-school time," Deacon said.
Deacon is in her second year of a two-year commitment through AmeriCorps Service, and specializes in agriculture, so she also works with the students in the club's garden to raise fruits and vegetables. When the produce is in season, some of the food harvested from the garden is used to make the smoothies.
Colby Batchelor, a 10-year-old fourth-grader at Green Elementary, said he learned a lot about electricity and nutrition, but he really just likes riding the bike.
"It's a really good experience; my dad and I go on a lot of bike rides, and I like bike rides," Colby said.
Bryan Lake, CEO of the Boys and Girls Clubs of the Umpqua Valley, said he likes the fact that the kids can learn and have fun at the same time, and these experiences will stay with them.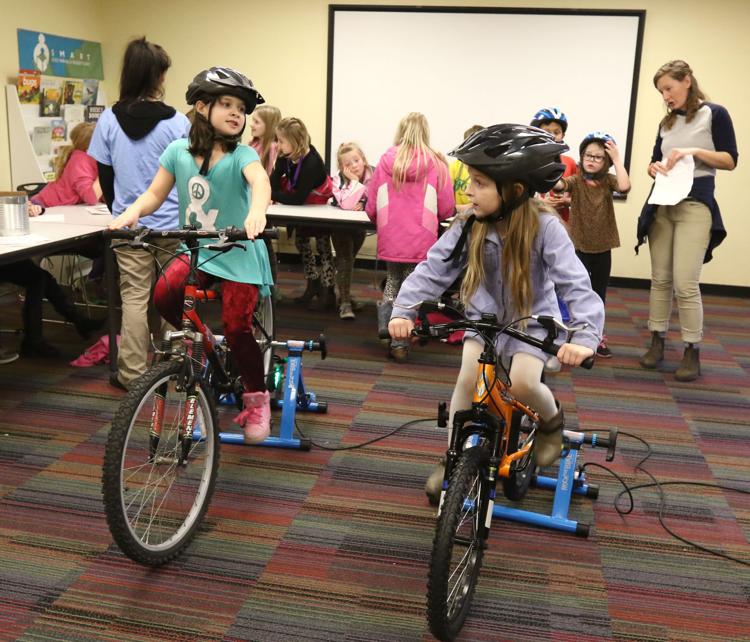 "This has turned out to be a very popular activity at the club," Lake said. "It teaches them about electricity and about healthy choices. I'd like to have two more of the bikes."
It gets them active, he said, and it teaches them cause and effect — where they work for something and get the reward at the end — and that, he said, can translate to all aspects of life.