A loving father. A happy little girl.
A tragic crash that cut their lives short.
Nearly 200 people turned out at River Forks Park on Sunday for a candlelight vigil honoring the memories of Sean Moss and Madison Ford, the father and daughter found in the Umpqua River on Thursday, three months after their disappearance in August.
Moss's mother, Catrina Miller, thanked everyone who reached out to help, and said she couldn't ask for a better community to live in.
"It's been amazing. All the support that we've gotten as a family," she said. "Everybody who spent all their time looking and sending me messages and just letting us know that you're there for us."
Miller broke down as she said she had wished for a different outcome but was grateful they'd been found. And she thanked those present for being present to honor them.
She sobbed as she kissed two large photographs of her son and granddaughter.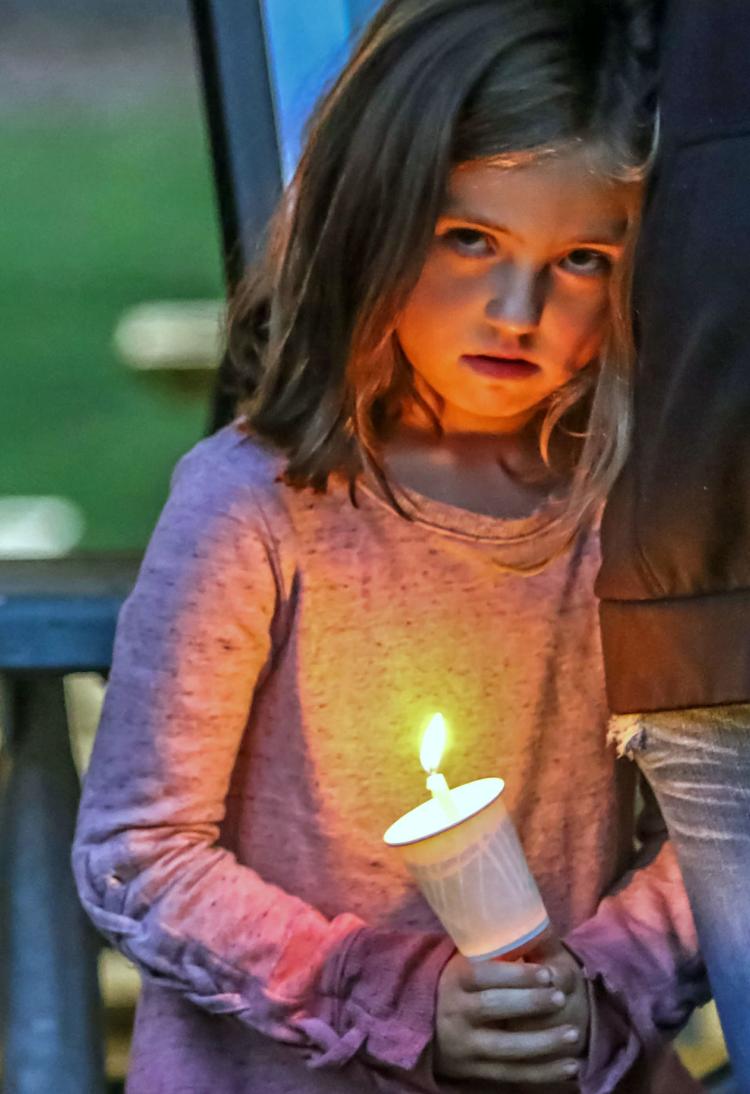 Madison's mother Jessica Ford and Moss's brother Brian Moss also spoke briefly and thanked everyone for coming, and a moment of silence was held to remember Sean Moss and Madison.
Prior to the ceremony, Miller told The News-Review that she had prayed every day that they would be found and hoped for a different result.
"But I'm very thankful that they were found, and very, very thankful that nobody gave up," she said.
Moss was a great guy, she said, and a pretty mellow person.
"He liked people. He really liked people. He had a lot of friends and a lot of friends I didn't even know about, and people from the community that he's touched," she said.
Moss grew up in Glide and graduated from Glide High School. He worked a swing shift at Harbor Wholesale and was a big fan of the outdoors.
"He loved taking his eldest daughter, and Maddie once she was born, to the parks and to the beach and to the mountains," she said. "Wildlife Safari, that was a big one with our family."
He was a pretty easygoing dad, she said.
"He was learning how to be a full-time dad on his own, which is a struggle for anybody," she said, "but he had an amazing support system."
Madison was a busy 2 year old who loved nursery rhymes and being outdoors.
"She was just so busy, so happy," Miller said.
Miller said she was grateful for all the people who kept searching for them, and that the Douglas County Sheriff's Office had been amazing.
"They never gave up. Even when they had other cases they had to do, they never stopped looking," she said. "I can't thank the detectives enough. They went above and beyond."
Jessica Ford said prior to the vigil that she and Moss had been friends since junior high school and Madison was a sweetheart, very playful.
"They were just very fun to be around," she said.
Jessica Ford said she's still in shock.
"I think I'm still trying to get it through my head that they're not here," she said.
"It's hard with a 2-year-old. You don't expect your kids to go before you," said Jessica Ford's mother, Theresa Winkler, prior to the ceremony.
Winkler said she knew Moss would never just run off with Madison.
"He was a good dad. Sean was a great dad. He loved that baby," she said.
But the family waited and worried for months, knowing something bad had happened, but not knowing what it was.
"I'm just praying that she's in heaven now, you know, she's not hurting," Winkler said of her granddaughter. "We have closure. There's families out there that never get closure, you know, still looking for their kids out there. It's hard, but at least we do have that closure and can lay her to rest and Sean to rest. She's with God now. We'll see her again. We'll hold her again."
Winkler said Madison was always smiling, always giving her kisses.
"She was such a happy little spark of joy" she said.
Moss and Madison were last seen Aug. 9 and were reported missing Aug. 12.
Family members had expected to meet them at the fair two days before that. Madison was entered into the National Center for Missing and Endangered Children database and the case was featured on "Live PD," a national cable show on A&E Aug. 23.
They were discovered after search crews found vehicle debris Wednesday near Crow Rapids on the Umpqua River. A dive team located them and their vehicle on Thursday about 12 feet underwater in a narrow canal.
Winkler said she wanted to encourage people to drive carefully, especially with winter coming on.
"Be safe when you're out there driving," Winkler said.