RIDDLE — Eileen Hackett brings her children to the Riddle Library every day it's open. So when she heard that Douglas County was going to close all its libraries for lack of funds, she was devastated.
Tuesday, she was thrilled to be able to return to the library for its grand reopening.
"I'm just so thankful. It just means so much to my children and to the community," she said.
The Riddle Library shut down April 1, along with all the county's smaller branch libraries. Its reopening came complete with a ribbon-cutting ceremony. About 30 people, including volunteers and patrons, turned out for the event. Riddle's library is the fourth of the former Douglas County Library branches to reopen with local, volunteer staffing. Sutherlin, Oakland and Reedsport libraries have also reopened.
The Riddle Library will be checking out books, not just operating a reading room, which was the initial plan put forward by the county for the branch libraries. It will be open three days a week, Tuesday through Thursday, and will host a full slate of summer programs for students.
For Ethan Hackett, 6, the library is a place where he can check out his favorites, books from the Magic Treehouse series and the Captain Underpants series. He's read all the Magic Treehouse books available in the Riddle Library. The ones he hasn't read yet are only available at the Roseburg Library, which hasn't yet reopened after its May 31 closure, so it will be a little while before he gets to read them. After he checks out his books, he gets a little computer time, something he doesn't get at home. For his sister Emma, 8, the library is a great social outlet.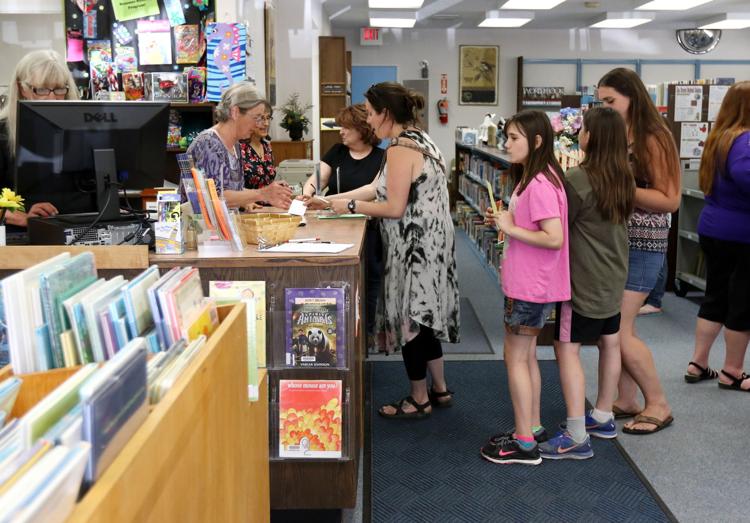 "It always brings joy to her day," Eileen Hackett said.
Riddle Mayor Bill Duckett said it's fabulous to have the library reopened.
"It's something that's needed. We were disappointed when the county decided it would shut it down," Duckett said.
He said the city of Riddle was more than happy to get behind the local volunteers who worked to reopen the library. It owns the building and is providing utilities, Wi-Fi and the insurance for about 40 volunteers who will staff the library.
He said his wife Patricia Duckett is a big library patron herself. She's also got her own library at home and donated more than 400 books to the library last year.
Rita Radford has been the "spark plug" that got the library up and running again, Duckett said.
Radford said she was disappointed when the county announced the library would be closing, but she didn't see why that should be the end of it.
"My first thought was this doesn't need to happen. We can keep our own library open," she said.
Radford worked as a library aide at the Canyonville, Myrtle Creek and Riddle libraries for 15 years. Now, she's working at the library for free.
"It's a passion for me. I really love it, so that's OK," she said.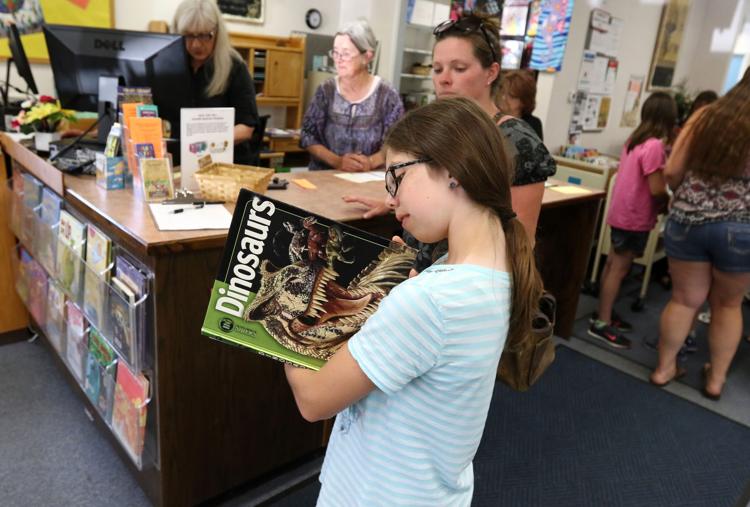 Radford said school gets out for the summer this week, and the library will be ready. Events planned include a summer reading program with prizes, along with other programs ranging from a pre-solar eclipse party to a magic workshop put on by professional magicians.
Jerry Sable, a Riddle library board member, was looking for a book to read on Tuesday afternoon. He reads pretty much everything, he said, especially historical fiction, history and mysteries. Without a library, he'd be spending more money on books.
He's glad the library has reopened.
"The community needs it, the kids need it especially," he said.
Audrey Simonson, 15, thinks so too.
"I'm here because I think more teens need to get out and start reading," she said.
On Tuesday, Simonson checked out "This is What Happy Looks Like," a novel by one of her favorite authors, Jennifer E. Smith.
She plans to volunteer at the library reading to children, good experience for the career she's planning as a Christian school teacher. She said she was glad the library is able to check out books, rather than having to operate as a reading room only. That would have been hard, because "people want to read through an entire book, not just sit and read part of one," she said.