One of the more controversial components of the $1.9 trillion economic aid package proposed by President Joe Biden has to do with the plan to increase the federal minimum wage.
The federal minimum wage currently stands at $7.25 an hour and has not been raised since 2009. Under the Biden proposal, the hourly minimum wage would increase immediately to $9.50 and gradually rise until it reaches $15 by 2025. It's unclear just how that increase, if enacted, would impact Douglas County, since by state law the minimum wage here is currently $11.50 an hour and due to increase to $12.50 by July 2022.
Leaving aside that question mark — and whether the increase makes it in the initial legislation or is handled separately — here is a look at the federal minimum wage, Oregon minimum wage, and what the proposed increase might mean for us here in Douglas County.
The history of minimum wages in this country dates back to 1912 when Massachusetts became the first state to pass a minimum wage law as a way to protect women and child workers from discrimination. Soon more states enacted such laws, many of which were specific to gender, age and even particular industries. In 1938, President Franklin D. Roosevelt helped establish the Fair Labor Standards Act, which called for a federal minimum wage — at 25 cents an hour.
When he enacted the federal minimum wage in 1938, Roosevelt said it was intended to provide workers a living wage, and explained what he meant by that. "It seems to me to be equally plain that no business which depends for existence on paying less than living wages to its workers has any right to continue in this country," he said. "By living wages I mean more than a bare subsistence level — I mean the wages of decent living."
President Joe Biden echoed those sentiments recently when he discussed the need to increase the federal minimum wage, which stands at $7.25 an hour.
"No one in America should work 40 hours a week making below the poverty line," Biden said. "If you work for less than $15 an hour and work 40 hours a week, you're living in poverty."
It has been 11 years since the federal minimum wage was raised, the longest time between raises since it was first established in 1938. In 2019, The US House of Representatives passed a bill to gradually lift the federal minimum wage to $15 an hour by 2025 — just as Biden's current proposal does — but the Republican-controlled Senate refused to take it up.
In 2000, 11 US states had wage minimums above the federal standard. Today, 29 states and the District of Columbia — which together account for half the nation's population — have minimum wages set above the federal minimum of $7.25 an hour. That includes a growing number of states with minimum wages now at $15, or close to it, covering workers who often live outside of the country's most expensive cities.
Oregon adopted its minimum wages laws in 1913, becoming one of the first states in the nation to do so. However, that law was different from what we typically think of as a minimum wage. It had different minimums for different industries based on the decisions of "wage boards" and committees — and those minimums applied only to women and children. It was thought that an effort to establish a minimum wage for men would lead to legal challenges, so none was included. Despite that, Oregon's law was challenged almost immediately. Those legal challenges finally ended in 1917, when the US Supreme Court upheld Oregon's minimum wage law on a tie vote.
Oregon's model became the most widely adopted in the country. But as with Oregon, minimum wage laws in other states were attacked in the courts, and different courts rendered different decisions, creating a hodgepodge of different applications of the Oregon model. By 1920, most of the 17 states with minimum wage laws found them repealed, not enforced, or rendered unworkable due to court rulings.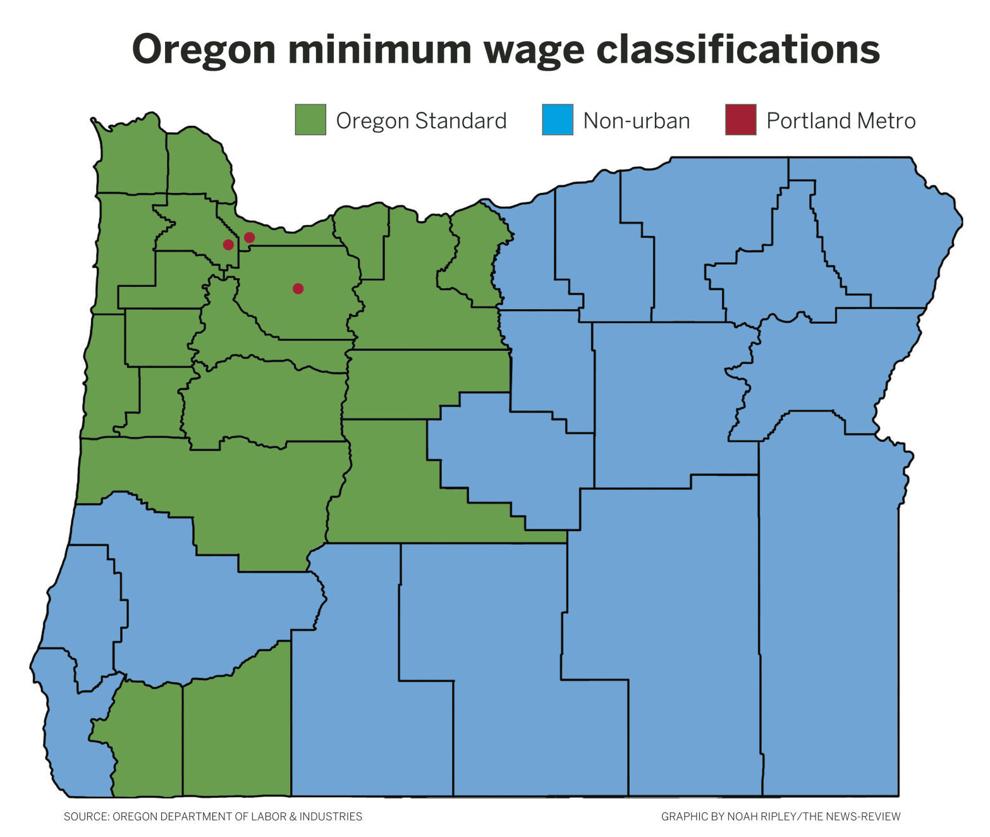 Fast-forward to 2016, when Oregon's minimum wage levels were set by Senate Bill 1532. The legislation called for minimum wage increases on July 1 each year through 2022. The wages and increases differ based on where someone lives. The state is broken down into three regions — non-urban, standard and Portland metro.
Douglas County is considered non-urban — along with 18 other counties, including Coos, Curry, Jefferson and Klamath — where the minimum in January 2016 was $9.25 an hour. The wage increased to $9.50 on July 1 of that year, and has increased 50 cents every July 1 since then. The current wage is $11.50. That is scheduled to increase to $12 on July 1, and to $12.50 the following July. After that, it will increase annually to $1 less than the standard minimum wage.
In the 15 so-called standard counties, which includes Benton, Clatsop, Columbia and Deschutes, as well as parts of Clackamas, Multnomah and Washington counties outside the urban growth boundary, the minimum wage is $12. That is scheduled to increase to $12.75 on July 1 and to $13.50 the following July. After that it will be adjusted annually based on an increase, if any, to the consumer price index.
In the Portland metro area, the minimum wage is $13.25. That is scheduled to increase to $14 on July 1 and to $14.75 the following July. After that, it will increase to $1.25 over the standard minimum wage.
The proposal to increase the minimum wage is part of a $1.9 trillion stimulus package that Biden is proposing. Among other things the package would also provide money for a nationwide COVID-19 vaccine distribution effort and another round of stimulus checks, these for $1,400.
The language of the proposed legislation is still being worked out, and it appeared Saturday that the provision to increase the minimum wage could be stripped out of the $1.9 trillion legislation and dealt with separately. The Senate on Friday approved a non-binding voice vote opposing the wage increase, and Biden indicated he expected it to be removed from the legislation. However, Sen. Bernie Sanders, a vocal proponent of the wage increase, vowed to press ahead. "We need to end the crisis of starvation wages," he said.
Here is what we know so far about the status of the $15 minimum-wage proposal:
The first increase, to $9.50 an hour, would occur the day the law goes into effect. Annual increases would follow until reaching $15 an hour, then the rate would be reviewed each year and adjusted based on changes to median hourly earnings of all employees.
Democrats have also proposed the gradual elimination of subminimum wages for waiters and other workers who are in part paid through tips. That federal minimum wage for those adult workers is currently $2.13 an hour.
Working full-time at $7.25 an hour, a person would earn about $15,000 annually. With one dependent, that person would live below the federal poverty line. At $15 an hour, a family of four would be slightly above the poverty line.
Brian Oelberg is a representative in Roseburg for the Pacific Northwest Regional Council of Carpenters. That umbrella union represents 2,000 members who work for Roseburg Forest Products in Douglas County, Coquille and North Bend. Oelberg said raising the federal minimum wage won't directly affect RFP union members because they have a union contract with union wages. But he also said he has worked jobs that pay close to the minimum wage and it was difficult to get by:
"Paying the bills becomes difficult. You watch all of your money go to rent and bills. Everything is more expensive. All the costs are going up with the monthly bills coming in, and the wages haven't kept up," Oelberg said.
Oelberg also said he doesn't believe raising the minimum wage will result in local job losses, as some people claim. "Labor costs for minimum wage employees are so low that it doesn't affect most employers. An extra $3 an hour is not going to break the bank."
If anything, Oelberg said, there should be a cap on executive salaries, which he said are way out of line compared to what his union workers make. "The lumber market is up 150%-200% and they're making boatloads of money."
Brian Rooney, a regional economist with the Oregon Employment Department who covers Douglas County, said the proposed increases to the federal minimum wage would likely have little impact here, since the state minimums wages already exceed the proposed federal increases, at least for the near future. He said:
"Oregon will feel less immediate impact from an increase to $15 since we have been increasing our minimum wage incrementally since 2016. The impact in Oregon will be felt less than in states where the minimum wage is still $7.25. I think the federal proposal is to reach $15 by 2025. It's likely that the Portland area will already be $15 by then and other areas of the state will be close, since Oregon increases the wage each year based on the inflation rate."
Rooney also said that the most recent data available shows that in Douglas County there were 12,737 jobs that paid below $15 an hour, or 31% of all jobs.
Gary Gray, a business/economics instructor at Umpqua Community College, said raising the federal minimum wage could have a ripple effect here.
"When the Oregon minimum wage was closer to the $9 per hour level, many small business owners and government entities paid $16 to $18 per hour for key positions. Many of those positions required something above a high school education. If the minimum wage moves to $15 per hour, business and government agencies will need to rethink their positions. If the minimum wage is designed for entry-level or lower-skill jobs, then higher skill jobs will expect and demand more than a $1 or $2 per hour differential … Statistically, one of the largest employers in Oregon is the government. That includes local and county, along with schools. While many of those groups already pay above the $15 level, it puts pressure on the entire wage structure. So, in states like Oregon, continually raising the minimum wage puts pressure on government and school budgets, which translates into higher taxes and fees. It would be great to start a community conversation about the benefits and the impacts of an ever-increasing minimum wage."
They are split on whether minimum-wage increases might cost workers jobs. Basic economic theory says that when prices increase — including those caused by wage increases — demand for that product falls, meaning fewer workers are hired or hours are cut.
Some economists say that higher minimum wages cause employers to automate low-wage jobs. Others, however, point to a study that found that 138 state-level minimum-wage increases had no effect on the unemployment rate for low-wage workers.
In 2019, the nonpartisan Congressional Budget Office, in 2019, found that raising the minimum wage to $15 an hour by 2025 would cost 1.3 million workers their jobs, while lifting the same number of workers out of poverty. That report also found that the increase would boost the wages of 17 million workers who would otherwise earn less than $15 an hour, and another 10 million workers otherwise earning slightly more than $15 an hour.
Studies show that many large retailers are already paying their workers what the proposed increase to the federal minimum wage would pay. For example, Amazon, Costco Wholesale Corp., Target Corp. and Best Buy Co. Inc. have already raised their minimum wages to $15. Walmart Inc. has a starting wage of about $11 an hour, but the retailer recently said it plans to raise pay to at least $15 per hour for about 165,000 of its hourly associates, which represents about 11% of its U.S. workforce.