WINSTON — One of the biggest Christmas presents to the Douglas County community this holiday season is Kayode, a 4,000-pound white rhinoceros that made his way to Wildlife Safari in early November from the San Diego Zoo Safari Park.
"Kayode is still in our Rhino Boma (barn), but people can drive by the boma and see him in the pen," said Wildlife Safari General Curator Dan Brands.
Currently in quarantine until after the holidays, Kayode is residing in the newly constructed Rhino Boma until his release to roam with the rest of the animals in the park that's home to about 500 animals. Kayode's medical tests have come back normal and he is in excellent health, allowing him to soon roam.
Brands said that Kayode is a significant addition because the park has been working on connecting guests with the animals there.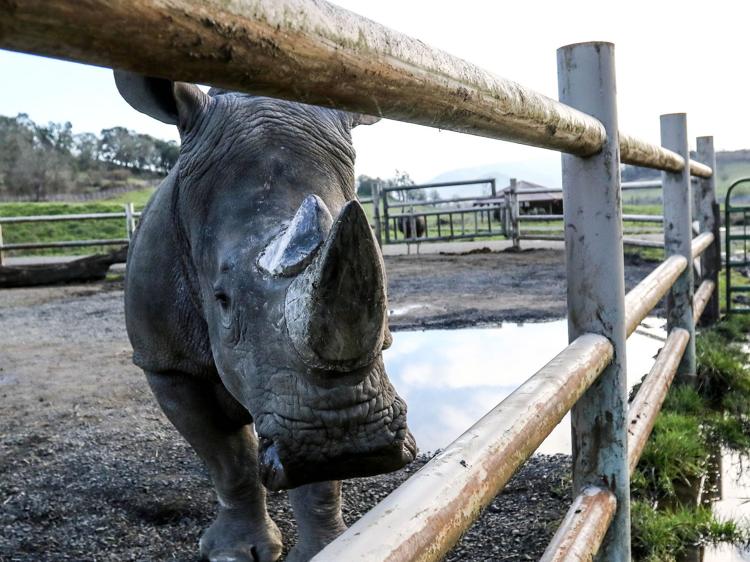 "Once they have that connection, they can empathize with the plight of each of the animals that we have in the park, so the rhinos are a great ambassador for their wild counterparts," Brands said.
Staff has reported positive interactions between Kayode, who's almost 4 years old, and Taryn, the park's 25-year-old female rhinoceros. Rhinos can live into their 40s.
"With our new Rhino Boma, the female has been too skittish about coming into the new barn at night," Brands said, "but with Kayode there, she's been joining him in the barn at night. That has taken our training leaps forward."
Park staff is currently working on training the two rhinos to participate in husbandry activities. Brands said the park plans to get a third rhino soon to simulate a herd because rhinos possess a herd mentality.
"With white rhinos in particular, they breed better in herd management," he said. "Rhinos typically don't get pregnant in captivity."
Taryn has been alone since the last male died about a year ago. Participating with a number of Species Survival Plans, the safari has been working on bringing a new male rhino into the park since then.
"Taryn is happy to have one of her own kind back and to be able to socialize with him," Brands said.
Brands clarified that although their common name is white rhinoceros, these two rhinos are gray in color. He said that these animals take on the color of the dirt in the areas where they are found because they roll in dirt.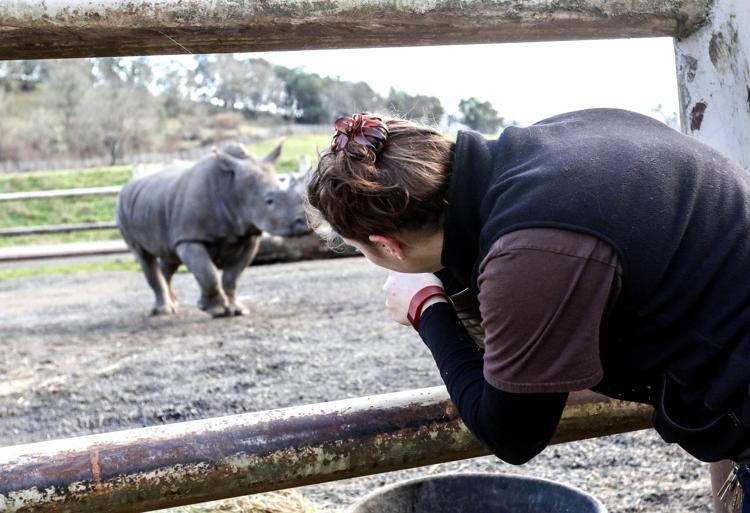 In the meantime, Brands said, "We are going to continue to work on building our rhino herd up so that we can get into a successful breeding program with them. That is what we are working on with the bigger barn that we just built."
Wildlife Safari is open year round so visitors can see Kayode the white rhinoceros now. Wildlife Safari is located at 1790 Safari Road, Winston. For information, call 541-679-6761 or see the website at www.wildlifesafari.net.