Business owners and other residents in the path of a planned upgrade for Exit 124 received a mailing last week from the Oregon Department of Transportation, including a map and other details.
Last week, ODOT spokesman Dan Latham went to more than 150 residences, businesses and other establishments along West Harvard Avenue to discuss how the changes may affect traffic. ODOT also mailed the information and map to people in the area.
"I went door-to-door talking to people about how they would be impacted by the delays," Latham said.
The area is at vehicle capacity with more than 24,000 vehicles using it each day, according to an estimate by ODOT.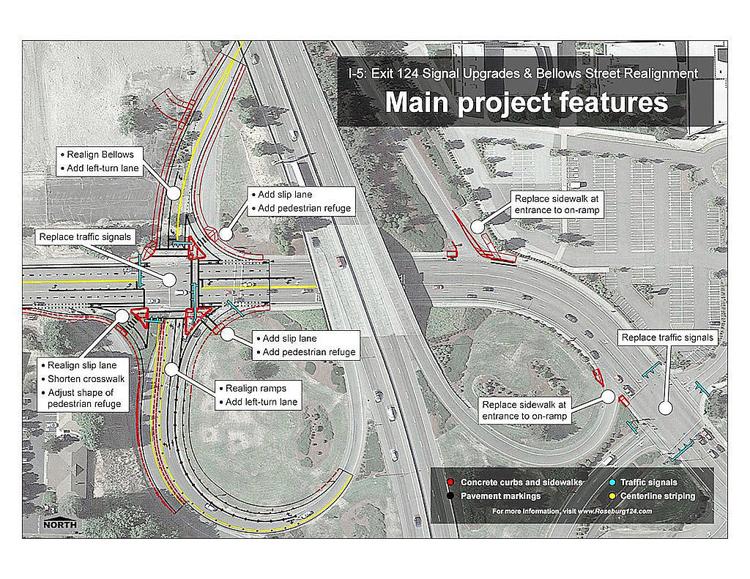 The project includes replacing traffic lights at the I-5 southbound and northbound off-ramps to Harvard, which were installed in the 1970s and require frequent maintenance. Additional signage will be installed to improve traffic safety.
Latham said that contractors will be able to bid for the project starting on March 21. The estimated budget will be $2.5 million. Latham expects construction will begin in May 2019, continue through the summer and end by fall.
Two left-turn lanes will be added, including one at the southbound off-ramp to westbound Harvard and another at the intersection of West Bellows Street to eastbound Harvard.
ODOT will also improve sidewalk safety at the intersection by adding pedestrian refuges — an island in the middle of a crosswalk where pedestrians can stop before completely crossing the street. Workers will make sidewalk ramps compliant with the Americans with Disabilities Act.
The construction will require frequent nighttime lane closures on Harvard Avenue and may require daytime lane closures, according to the plans released by ODOT. Motorists, residents and business owners along Harvard should expect an increase in congestion and delays throughout the summer.
Southbound I-5 on and off ramps will be closed for two weeks. Detours will direct motorists to exits 123 and 125. The I-5 northbound on-ramp for westbound Harvard traffic will be closed at night for two weeks.
The south end of Bellows Street will also be closed for two weeks. Residents who use the street will be detoured through the Roseburg High School parking lot during the closure, according to project details posted on ODOT's website.
News of the project earlier this year raised concern with school administrators when ODOT documents shared with school officials appeared to show traffic getting on and off I-5 would be directed through the school parking lot.
Latham said Tuesday that would not be the case.
"That was absolutely incorrect," Latham said. "This is something that is going to effect a very small amount of people along Bellows Street, maybe about 20 people, and I will be talking to them directly.
Roseburg High School Principal Jill Weber said the updated plans don't concern her.
"Our number one priority is the safety of our kids and their families and these improvements should improve safety around here," Weber said.
She said even if the construction causes short-term inconvenience, the benefits will outweigh the costs.
Latham said he hopes to meet with everyone who may be affected by the end of next week to answer questions and will continue sending out letters with the information.