WINSTON — The piano was just tuned. The monthly delivery for the food pantry arrived just over a week ago. The new, permanent pastor had just been hired Wednesday.
Things were humming along at the Church of the Nazarene in Winston. Yes, attendance had waned a bit in recent years from its heydey, when it would routinely pack in more than 100 parishioners for Sunday service. But with a growing food pantry program and the addition of an energetic pastor, the tide seemed to be turning for the nearly 50-year-old church.
That momentum ebbed Saturday afternoon in the span of about an hour, when a fire tore through the sanctuary, apparently destroying just about everything in its path.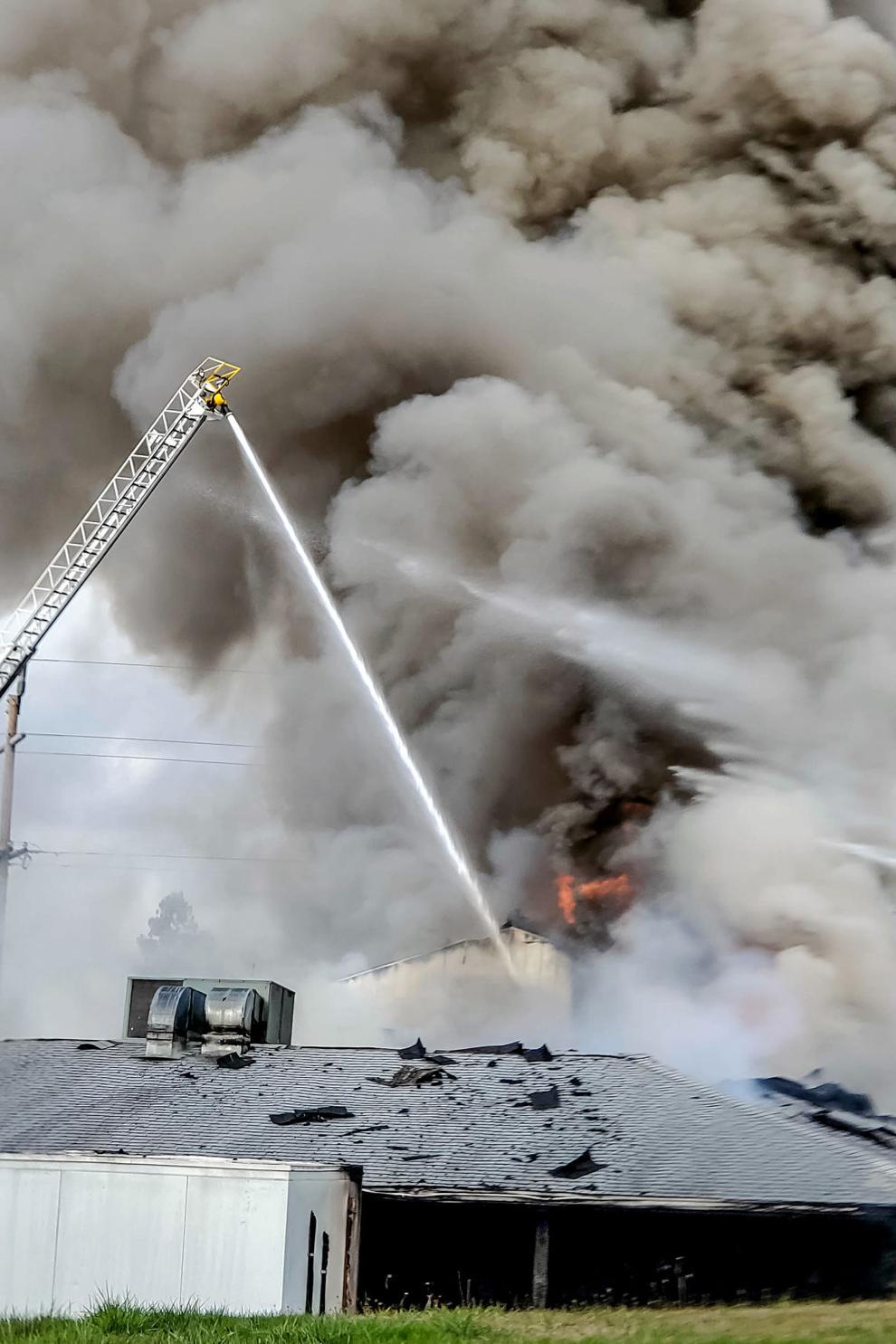 "It's all gone," said Cindy Slaymaker, who had just signed on to be the permanent pastor of the church on Wednesday. She drove down from her home in Cottage Grove immediately upon hearing of the fire.
The first call on the fire at the church, located at 385 Thompson Ave,, came in at 2:26 p.m. Firefighters from Winston-Dillard, Lookinglass, Roseburg and Douglas County Fire District No. 2 responded. The blaze was brought under control at 4 p.m.
Fire officials at the scene said no one was injured and it didn't appear anyone was inside at the time. The fire is under investigation by Winston police, Oregon State Police and Oregon State Fire Marshal's office.
Becky and Mark Wayman live in the neighborhood and said they witnessed the fire from early on.
The Waymans said at one point there were two ladders hosing down the fire from overhead. There were also several firefighters using axes to break through the roof.
"When they put the hose on it, it exploded," Mark Wayman said, adding that the fire was so hot it sounded like boiling water.
Becky Wayman said despite the loss, things could've been worse.
"I'm just so glad it didn't happen in the summer," she said. "I'm also glad we have a really good fire department and they're close by."
As firefighters worked to put out the fire, area residents lined the streets to watch, and comfort one another. That was a bit of a mixed blessing, Becky Wayman said.
"It's just kind of sad that when something like this happens it brings out neighbors you never met before," she said.
FEEDING THE HUNGRYAnna Schweitzer said that in 1993 her brother celebrated his 50th wedding anniversary in the church. She also knew a woman who was baptized there.
"We've got a lot of memories there," she said.
Several longtime members said the church held 100 individual, padded chairs. But over the years those would fill up for Sunday service and they'd have to bring in a couple dozen more to seat everyone.
Bernie McClellan said she helps manage the food pantry. The pantry had been run out of a church in Dillard for years but moved to the Church of the Nazarene in Winston three years ago.
The pantry handed out boxes of food on Mondays and Wednesdays. On a typical day, it would provide food to about two dozen families, McClellan said, meaning over the course of a month the pantry would distribute more than 200 boxes of food to those in need.
She said she feared that all of the food in the pantry, including a big delivery from the local food bank on Feb.19, was gone. No matter, McClellan said. Families need help and she's adamant they're going to get it.
"We'll be looking for some other place temporarily to set up," she said. "We'll do what we have to do to provide food to people. We'll find another place as soon as we can."
The previous pastor retired in March and the church had been without a permanent one since then. Slaymaker had been filling in temporarily since August.
She had been a pastor in Cottage Grove for 18 years before retiring. She had been filling in on a temporary basis at the Winston church since August, then was recently convinced to come out of retirement and take over the post permanently. She and the church reached an official agreement on Wednesday.
"They needed a pastor and I love these people," Slaymaker said of her reason for taking the post. "I was just appointed pastor on Wednesday, and now this."
She said she was told just about everything inside the church, including a piano, organ, drums and other musical instruments, which a small orchestra used to perform on a large platform inside, was destroyed.
Like McClellan, Slaymaker said she was already thinking of ways to make the church whole again.
"I want people to know that this is a brand new beginning for this church, and we look forward to what God has planned for us," she said.
Dale Herbert, a friend of Slaymaker's who drove down from Eugene after hearing of the fire, has a special connection to the church. Herbert was on the construction crew that helped build it. Construction started in 1975 and the new church officially opened on May 16, 1976, Herbert said.
Back then it was just one main sanctuary; other parts of the church, including the back part where the food pantry is, were added later, he said.
Herbert said during construction neighbors would line the block to watch, and often bring the workers snacks and even serve them meals.
"It was just like a version of an old-fashion barn raising," he said "It was a community effort."
Herbert said on Tuesdays and Sundays for the past six months or so he would head out from his home in Eugene, pick Slaymaker up in Cottage Grove and the two would drive together to the Winston church. He said the destruction of the church is hitting him hard; he can only imagine how tough it must be for longtime worshipers.
"I'm a Vietnam veteran and I've seen some sad things," he said. "But you never really get used to it."
Hebert also said he and Slaymaker had gone through some challenging times over the last few years. Herbert lost his wife and Slaymaker lost her husband, and through their despair the two became friends.
They got through those tough times and they'll get through this, he said.
"We try and keep our chins up and stay positive."