It's the ones you can't help that will stick with you forever, said Tim Novotny, the General Manager of Bay Cities Ambulance.
Novotny wasn't one of the many men and women who responded to the shooting at Umpqua Community College that left 10 dead, including the shooter, but many of his current employees, who were either employed by his company or by Douglas County Fire District No. 2 during the tragedy, were the ones speeding toward the gunshots that day.
During a mass casualty event, like the shooting, first responders are given the unimaginable task of deciding who cannot be saved — identifying those who are either dead, or too close to death, with a black tag.
"Normally we go to a scene and we help everyone," Novotny said. "Now we have to determine who we're not going to help."
First responders enter their profession with one main goal: To help. They're a different breed of people, they say. They can't resist the temptation, the duty, of dropping everything to assist someone in need. Simply by entering the profession each individual is branded with the public endorsement of being a hero. Of being someone who runs toward chaos, destruction, and often times, death.
But the dark, unwritten side of the profession can be crippling to those who spend each hour of every day rushing to the grimmest moments a community has to offer. Yet their culture dictates they push their emotions to the back, effectively blocking recovery. Not just to fit into the so-called brotherhood, but as a system of survival when dealing with the relentless flow of heartbreaking adversity and tiresome circumstances.
Only a few hours after the UCC shooting police responded to a community-organized candlelight vigil on a report that a Red Cross volunteer had been punched in the chest by a man near the Stewart Park amphitheater.
The volunteer told police she had been approached by a 51-year-old man who was yelling and screaming at her for working for the Red Cross and when she asked the man to take a step away from her, he punched her directly in the chest before retreating toward the nearby baseball fields.
When the volunteer's fiancé chased after the man, the suspect turned around, pulled out a knife and charged. Fearing for his life, the volunteer's fiancé punched the armed man, knocking him unconscious.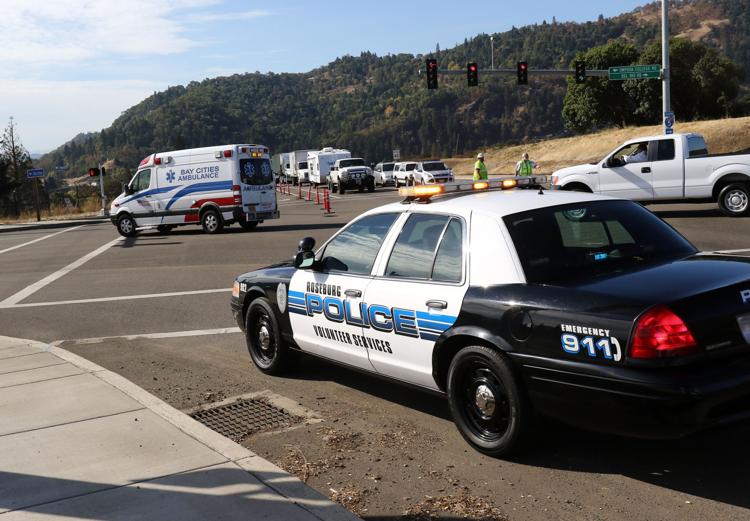 In September, the accused man was convicted of unlawful use of a weapon, harassment and second-degree disorderly conduct, but his actions had already soured the October memorial and forced responding personnel to immediately compartmentalize both the bizarre parkway attack and the morning's murder of nine innocent community members.
"It's what we do," said Novotny. "We just suck it up and do it, because that's how we've been trained. We suck it up and we bury it and we hope we have a mechanism in place so we'll be able to deal with these things as we go on."
First responders deal with tragedy, gruesome scenes and hysterical emotion every day, Novotny said, but what seemed to make the UCC shooting different was how personal it was to each individual in the community.
First responders may arrive to a motor vehicle accident and relate to the 19-year-old in the driver's seat, or maybe a child in the car reminds them of their own child, but with the shooting, Novotny said it seemed like everyone developed a deep relationship with the incident.
The college is a place where responders are called to frequently, many taught courses at the college, or took classes, even sat in the same classroom or desk as the victims. Whatever the reason, it hit everyone.
"There's not enough training in EMS on how to deal with that," he said.
And despite the common phrase, time doesn't always help.
"They're seeing things that no one should ever see and you can't erase what happens when you step out of your vehicle and slip on brain matter," he said. "Which is one of my experiences, showing up at a scene and finding out what you slipped on. Now every time you go to step on something slippery you get a flashback.
"Ten years from now you might not even remember why you have that flash, but you just get this feeling," he said.
Local emergency personnel will be pinning commemorative badges to their uniforms during the …
Not commonly thought of as experiencing the same kind of psychological stress as firefighters, police officers or emergency medical crews, dispatchers experience the same trauma of working through a tragedy.
Laurie Jackson, the operations manager for the Douglas County Emergency Communications Center, said the morning of Oct. 1 still makes her hair stand on end.
The center utilizes two ringtones — one for 911 calls and another for non-emergency calls — but after the first call came in about the shooting at 10:38 a.m. that morning, the call center slipped into an eerie silence.
"When all of our 911 lines light up and are in use, the system silences out the new calls coming in, which is something we don't experience very often," she said. "Only when something big is happening."
Soon, dispatchers started asking, "A shooting? Where?" and "Where's he at? Who was shot?"
"That's when you get a sinking feeling and a chill that ripples through your body," Jackson said.
Dispatchers are exposed to the unfiltered version of each event and often have to pass off the call to the police during the incident's climax, meaning the dispatcher is often left in the dark about the outcome.
"Sometimes we don't want to wait for the police to fill us in afterward and we hurry up to find the (disposition) to see what happened," she said. "Because when we left the call sounded horrible and we're concerned for the caller and the responders. We need that closure."
And just like the first responders who are haunted by those they couldn't save, dispatchers dread the questions they didn't ask and the things they didn't think of.
"Could I have done this better, and if so, could the outcome have changed," Jackson asked. "We always second-guess ourselves."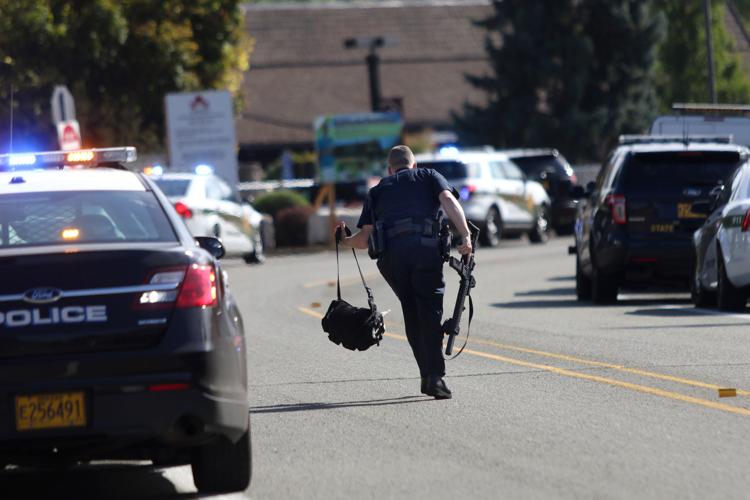 Nationwide, first responders are in trouble. A study published in the October 2015 edition of the Journal of Emergency Medical Services, showed that 86 percent of the study's respondents experienced what the journal coined "critical stress." The study also showed that 37 percent contemplated suicide and 6.6 percent had actually tried to take their own life — statistics that are roughly 10 times greater than the national average for American adults, according to data collected by the Centers for Disease Control and Prevention in 2012.
During the final week of September, members from several local agencies participated in a 4-day training to develop a peer support program to help first responders manage their psychological health.
Scott Ross, a captain at the Los Angeles County Fire Department who is also a peer coordinator with Chiron Front Line Resilience, the organization that put on the training, said many firefighters experience a kind of post-traumatic stress disorder throughout their 30 year career.
The mission of the training is to allow those firefighters to confront particular stressors by implementing a culture at firehouses, police departments and other emergency buildings, where talking about one's emotions is viewed as healthy and acceptable — even encouraged.
"This training is trying to enlighten them while saying that we need to do better self-care," Ross said.
Ross said many first responders are your typical Type-A personalities, those who are motivated to run toward danger and to continue running until no one else needs help. The problem arises when that individual needs real help, but isn't willing to get it, or doesn't view getting help as a realistic option. Which is why the training focuses on peer-to-peer conversations.
"Firefighters are already talking to firefighters, and if we can give them a little formalized training so they know what to look for and can recognize when people are having troubles and know how to hand off those individuals to the appropriate mental health professional, we can do a lot of good," Ross said. "We are by no means mental health professionals, we're just a conduit."
Incorporating the training at the local level was imperative, said Roseburg Fire Chief Gregg Timm.
Using an analogy borrowed from a Medford-based battalion chief, Timm said a first responder's stress is similar to a bookshelf piled with books.
"We start a career with a big shelf and every time you respond to an incident, you put a book on that shelf," he said. "Well pretty soon that bookshelf gets so heavy that over time that shelf will fall.
"The UCC incident was a huge book," he added. "But it's not just that one book, it's all the different sized books that over time will dump the shelf."
And while the training's benefits will likely prove to be immeasurable, Novoty of Bay Cities Ambulance said in combination with the support of the community, the two could permanently change Douglas County's public safety culture — and with it, the nation's.
"There's a church that every Friday drops off a Costco pizza here at the base as a silent 'thank you' … and what it does for these crews is amazing," he said. "Because they're still suffering, and I think it's important for the community to know that."