A group of small business owners is calling for the immediate resignation or firing of Roseburg Police Chief Gary Klopfenstein, pointing to a series of events that have caused the group to cast its vote of "no confidence" in the chief.
Roseburg Citizens for Truth started the campaign for Klopfenstein's removal, saying the chief reported questionable crime statistics in 2019, targeted Casey's Restaurant in early May 2020 for COVID-19 violations, and ignored proper safety protocols during a Black Lives Matter rally in late May.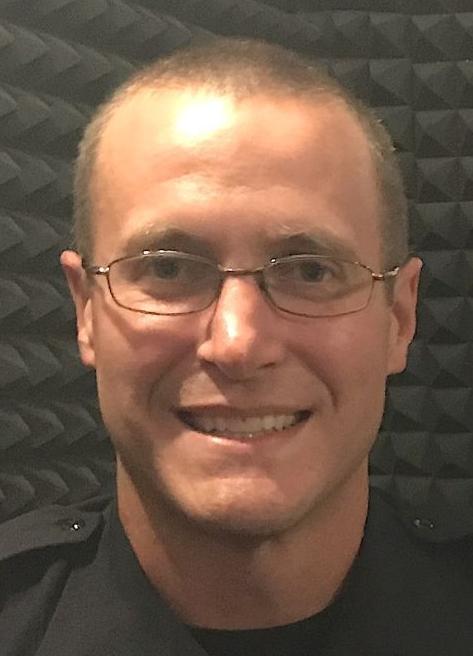 Over the weekend, the group sent an official letter to the Roseburg City Council and Roseburg Mayor Larry Rich demanding the chief's resignation. The group also recently launched a website, which spells out its allegations in detail.
Joshua Brennon, the spokesperson for Roseburg Citizens for Truth, said the group doesn't believe that the community is getting the proper transparency from the city's top cop.
"We believe the chief can't lead the city right now," Brennon said. "His actions are sending the wrong message to community members. His decisions don't reflect leadership qualities."
On May 5, 2020, Casey's opened its doors to indoor dining, at the time a violation of Oregon Gov. Kate Brown's Executive Order 20-07. The order, issued on March 8, banned any restaurant, bar or dining establishment to allow indoor service.
The group said Klopfenstein noticed that Casey's was serving people inside, took pictures and reported the restaurant on Northwest Garden Valley Boulevard to Oregon's Occupational Safety and Health Administration.
The restaurant received a total of nearly $14,000 in fines from OSHA and was issued a "red tag" warning, typically associated with shutting down a business due to an imminent danger that people may get sick or injured.
"I have seen no other cases in Oregon where they issued a red tag like this. It's very unusual," attorney George Goodman, of the firm Cummings, Goodman, Denley and Vicker of Newberg, said in a June 11 interview. Goodman is representing Casey's owners Lance and Laurie Mounts in their appeal process.
Klopfenstein said his report came only after multiple other residents had submitted complaints about the restaurant to OSHA.
"Our guidance for law enforcement agencies relating to the order was to educate, warn, then report," Klopfenstein said. "What's being missed is that other civilians had already reported (Casey's). I generated a report and sent it to OSHA, and they did the site inspection later. That's when the red tag was issued, and they chose to ignore the order.
"They were penalized on the site inspection, not my report," Klopfenstein said.
The group also said Klopfenstein was photographed greeting demonstrators at a heavily attended Black Lives Matter Rally on Northwest Garden Valley Boulevard.
Approximately 150 people attended the rally, which the Roseburg Citizens for Truth said also was a violation of Executive Order 20-07, which restricted public gatherings to no more than 25 people.
"Despite Klopfenstein's grave concerns about safety precautions with Casey's restaurant only three weeks prior, Klopfenstein had ZERO COVID FEARS as he continued to make his rounds up and down the protest line, greeting and bumping elbows, all while not maintaining social distancing recommendations and with no face mask," the group wrote on its website. "Most of the protesters did have face masks, however, Klopfenstein told no protesters that they were in violation of executive order of large gatherings nor chose to enforce any actions related to the protest."
Klopfenstein said multiple law enforcement officers attended the rally to ensure that the overall tone was peaceful. While many of the demonstrators wore face coverings, Gov. Brown's mandate on outdoor masks was not put into place until July 15.
"At the time of the rally, there had already been violence in other cities like Portland and Eugene," Klopfenstein said. "I walked that line and wanted to make sure that those attending knew that we support their constitutional rights and that they knew we were going to make sure it remained peaceful."
He also noted that law enforcement agencies across Oregon had received no concrete guidance pertaining to outdoor gatherings.
The group posted on its website a photo from The News-Review of Klopfenstein giving an elbow bump to an unmasked demonstrator carrying an American flag.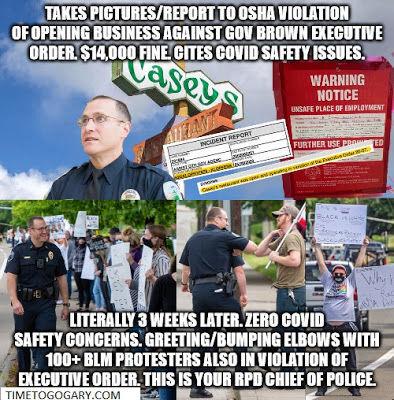 "He was actually a counter-protestor protecting his First Amendment rights as well as his Second Amendment right to open-carry," Klopfenstein said. "We spoke and I wanted to be sure he was doing so peacefully, which he was."
Finally, Roseburg Citizens for Truth said questionable crime statistics reported by the Roseburg Police Department to the FBI which, when released in a January 2020 report by www.lawnstarter.com, listed Roseburg as the most dangerous city in Oregon.
For people who believe a lawn start-up company proclaiming Roseburg as the most dangerous ci…
The report, which emphasized property crimes and other forms of theft per capita, rated Roseburg well above the national average in both categories. Roseburg Citizens for Truth believes that those numbers were inflated based on the department's reporting system.
The group contends that Roseburg police officers responding to all calls — an assertion attributed to the chief on the group's website — makes the crime problem in the area look worse than it is.
Klopfenstein assumed his current role in the department in July 2018 when then-chief Jim Burge retired. Roseburg Citizens for Truth believes that after two and a half years, Klopfenstein isn't the man for the job.
"These are unprecedented times, but I can assure you that community safety and compliance with the law will always be my priority," Klopfenstein said. "I truly mean that. That's from the heart."
Brennon and Roseburg Citizens for Truth feel differently, alleging that the chief carries a political bias when it comes to enforcement.
"We felt like the chief was targeting (small business owners)," Brennon said. "He may have allowed some of his political bias to affect his decision making.
"That's not the transparency the community needs right now," he said. "That's the issue."