CHARLESTON — On Jan. 1, Rob Gensorek of Basin Tackle in Charleston had to stop providing plastic bags to his customers and start charging them at least 5 cents for every paper bag they took out of the store.
The bag ban and the fee are both part of a new state law that took effect at the beginning of the year.
But Gensorek has come up with a novel way to protest.
He plans to donate every nickel he collects for those bags to organizations on the opposite end of the political spectrum from those who ushered in the new bag law.
Gensorek will donate his January bag fees to Timber Unity, the group that led the June protest against a proposed climate bill.
"It was the first one that came to my mind that would probably be the biggest bee in the bonnet of the state Legislature. I'm just being a jerk," Gensorek said.
The new law bans single-use plastic bags but allows stores to provide paper or reusable bags, including thicker plastic bags. The catch is that stores are required to charge their customers 5 cents per bag. The fee is intended to encourage customers to bring their own bags. If they do that, they don't pay the fee.
The 5 cents isn't a tax. The money doesn't go to the state. Many store owners will simply use the fees as compensation for the higher cost of providing other types of bags. Gensorek provides paper bags that cost him between 3.5 and 5 cents apiece, but said he plans to send the full 5-cent mandatory charge to Timber Unity anyway.
"I just don't like the government telling me as a business entity what to do, inasmuch as what I feel they're doing is they're kind of putting me in a position where I'm forced to enforce their social agenda," he said.
He also said he's grossed out at the thought of handling people's reusable cloth bags.
"They're going to bring them here. They're going to want me to touch 'em. I'm not touching them. I don't know if they washed 'em," he said.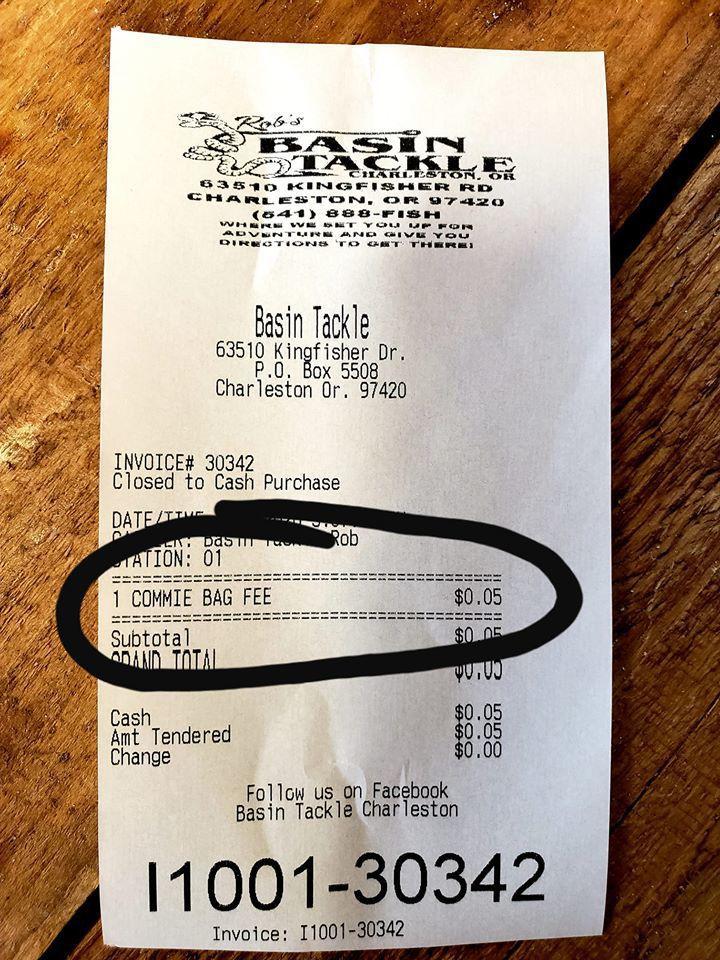 After Gensorek posted his plan on Facebook, complete with a photo of a receipt listing 1 COMMIE BAG FEE $0.05, he received about 500 comments.
Many suggested the new law was stupid or harmful.
"...do you know that as I fill up these bags 95% of it is plastic??? Really! Ridiculous," wrote Kim Konrady.
"Does anybody have any black tea? Cases of it?" wrote Brian Conley.
Others suggested less controversial donation recipients such as veterans programs and after school sports programs.
Gensorek said he will pick a different organization each month to receive his bag fee money. Next month he's considering donating to the National Rifle Association.
Editor's note: Rob Gensorek writes a regular column for The News-Review.