The prospect that traffic might be routed through the Roseburg High School parking lot during a construction project at Interstate 5 exit 124 caused concern recently among local school officials. However, according to the Oregon Department of Transportation, no decisions have been made yet about how traffic will be handled when construction begins next summer.
The consternation apparently was caused by maps attached to a June 22 letter from ODOT Senior Right of Way Agent Linda Henderson to the school district.
While the letter itself didn't reference rerouting traffic through the school parking lot, the maps show an orange highlighted section of the parking lot labeled "Temporary Easement for Detour."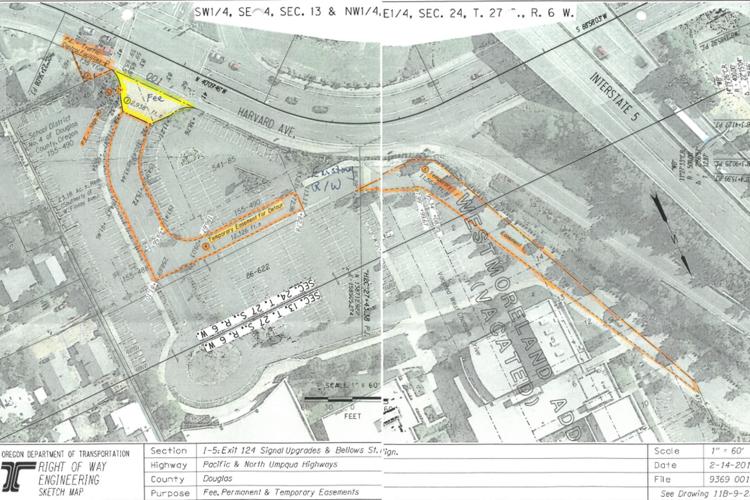 The issue was mentioned at the Roseburg School Board meeting Wednesday evening.
Any panic on the subject appears to be premature, however. ODOT spokesman Dan Latham said the project is still in the planning stages, and no decisions have been made yet about where to reroute traffic.
Latham said if the parking lot were used, it would not be freeway traffic being diverted there. Rather, it would be people traveling to and from the 15 or 20 homes that ordinarily use Bellows Street next to the high school. At most, that would amount to between 50 and 100 vehicles a day.
And, he said, the school parking lot would not be used without agreement from school officials.
"We're in development of a project, and we're looking at a lot of different options and nothing's been decided as far as traffic control," Latham said.
The work, which is expected to take place in summer of 2019, involves improvements to Bellows Street next to the high school, the southbound on and off ramps at exit 124, and Harvard Avenue. Bellows needs to be straightened, the ramp needs to be adjusted at Harvard, the intersection needs to be realigned, and traffic signal poles need to be replaced, Latham said. The poles were built in the mid-1970s and aren't strong enough to support the weight of new signage that needs to be placed at the intersection.
Changes also need to be made to improve pedestrian safety, he said.
Roseburg High School Principal Jill Weber said the level of concern over routing traffic through the school's parking lot would depend on factors like how long the traffic was rerouted and how much traffic was involved.
Weber said the school remains busy throughout the summer, with summer school, driver's education, sports camps, and breakfast and lunch served in the cafeteria, among other programs.
"We don't quiet down," she said. "There's a lot going on."
Weber said she does want to see improvements to the area around Exit 124.
"Anybody who drives through there in the morning knows how busy that is. The changes, I think, could be very good for that intersection. Sometimes they get traffic backed up onto I-5 and trying to make those turns is hard, so I think it would bring some safety to that," she said.